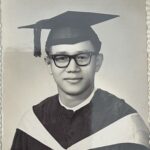 At the time of writing, my sister and I are in the process of planning my father's funeral.  We have decided for all donations either to go to my dad's Buddhist monastery in Wembley in which he played an active part in his retired years or to go to Bowel Cancer UK.  This is because Bowel Cancer UK is the UK's leading bowel cancer charity with the aim of trying to ensure a future where nobody dies of bowel cancer.
There are drugs currently under trial for metastatic bowel cancer in the UK and these include monoclonal antibodies and the checkpoint inhibitor drugs pembrolizumab and nivolumab.  My dad was considered for these drugs after his cancer recurred despite second line radiotherapy and chemotherapy but he wasn't able to partake in the trial due to one other medical condition and so he was left with no treatment options and subsequently died.
The checkpoint inhibitor drugs are also used in dermatology in certain melanoma patients.
What are the treatment options in melanoma?
The main treatment option for melanoma still remains surgical ie surgically removing the skin cancer from the skin and if the melanoma is caught early enough, then the surgical option can be all that is needed.
However, for thicker melanomas or melanomas that have already started to spread ie metastasise, surgery alone is not enough.  In recent years, immune checkpoint inhibitors have started to play a crucial role for those who have had proven metastases, or for those in whom the risk of metastasis is high.  The drugs typically used are either pembrolizumab, nivolumab or ipilimumab and they might be used in combination.  They essentially work by blocking checkpoints in a T cell, thus preventing the "off" signal from being sent and allowing the T cell to kill the cancer cells.
However, these drugs are not absolute.  They have increased the 5-year survival rate of a patient with metastatic melanoma from less than 10% to over 50% but the figures show that more can be done.
[Perez L, Samlowski W, Lopez-Flores R.  Outcome of Elective Checkpoint Inhibitor Discontinuation in Patients with Metastatic Melanoma Who Achieved a Complete Remission: Real-World Data.  Biomedicines 2022;10(5):1144.]
The use of mRNA vaccines
mRNA vaccines have actually been around since 1990's.  However, since the COVID pandemic, interest in mRNA vaccines has really taken off.  We know that mRNA vaccines can be produced rapidly and have low manufacturing costs.  They are also far safer than vaccines based on DNA as they do not affect the structure of nuclear DNA or affect cell protein expression in a permanent manner.  Using mRNA just requires minimal genetic elements in order to express the encoded protein.
[Bidram M, Zhao Y, Shebardina NG et al.  mRNA-Based Cancer Vaccines: A Therapeutic Strategy for the Treatment of Melanoma Patients.  Vaccines 2021;9:1060.]
How are they being used?
mRNA vaccines are not in clinical practice currently.  There is some preclinical data in mice models showing that mRNA vaccines can induce an immune response against cancer.
In human trials, a TriMix mRNA vaccine containing three melanoma-associated antigens was administered to patients with inoperable melanoma and shown to induce an immune response.  When given with ipilimumab, the 5-year survival rate increased slightly.
[De Keersmaecker B., Claerhout S., Carrasco J., et al. TriMix and tumor antigen mRNA electroporated dendritic cell vaccination plus ipilimumab: Link between T-cell activation and clinical responses in advanced melanoma. J. Immunother. Cancer. 2020;8:e000329. doi: 10.1136/jitc-2019-000329.]
More recently, the KEYNOTE-942 trial showed that an investigational personalised mRNA cancer vaccine (mRNA-4157/V940) used in combination with pembrolizumab showed a statistically significant reduction in melanoma recurrence or death compared to pembrolizumab alone.
[mRNA Vaccine Slows Melanoma Recurrence.  Cancer Discov. 2023 June 2; 13(6): 1278.  doi: 10.1158/2159-8290.CD-NB2023-0028.]
So what is the future?
There are plans for a phase III trial following on from the KEYNOTE-942 phase 2b trial as the next step and there are a further five melanoma clinical trials currently underway evaluating mRNA vaccination.
[Bafaloukos D, Gazouli I, Koutserimpas C et al.  Evolution and Progress of mRNA Vaccines in the Treatment of Melanoma: Future Prospects.  Vaccines (Basel).  2023;11(3):636.]
And for those with bowel cancer like my dad, I understand there are also trials underway looking at vaccine therapy before surgery.
Kind regards,
Sandy
Dr Sandy Flann, Consultant Dermatologist