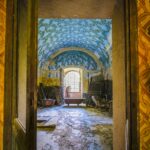 I think if I had my time again, I would love to be a historian or an archaeologist or something like that.  I really love all things ancient, they show us how and why we have ended up the way we are now and in a way, teach us that we are all transient beings, no matter how great or inconspicuous our lives may be.
It was therefore interesting to read a short article in the Correspondence section of the March edition of Clinical & Experimental Dermatology about the dermatitis that the famous French physician and revolutionist, Jean-Paul Marat suffered from.
[Charlier P, Bourdin V, Astier A et al.  Which treatment for the French revolutionist Jean-Paul Marat's dermatitis (1793)?  A biomedical analysis of his bathtub deposits.  Clin & Exp Dermatol 2023;48(3):263-264.]
Who is Jean-Paul Marat?
He was a French scientist, physician, journalist and politician in the 18th century.  He was a doctor in London in the 1770's and then became the physician to the bodyguards of the Comte d'Artois, Louis XVI's youngest brother who eventually became King Charles X of France in 1824.
He eventually gave up his medical practice to better concentrate on his scientific career but after failing to be elected to the Academy of Sciences, he started publishing pamphlets, placards and newspaper articles against the aristocracy.  He quickly rose to prominence.
What has this got to do with dermatology?
It was well known that Marat suffered from a chronic, debilitating skin condition.  From a metagenomic analysis of a blood stain of his, it has been deduced that he suffered from seborrhoeic dermatitis superinfected with Staphylococcus aureus and Cutibacterium acnes.
[de-Dios T, van Dorp L, Charlier P et al.  Metagenomic analysis of a blood stain from the French revolutionary Jean-Paul Marat (1743-1793).  Infect Genet Evol 2020; 80:104209.]
So what?
Well, Marat was well known to have spent hours in his bathtub into which he had decanted various pharmaceutical products in an attempt to calm his skin.
This article by Charlier et al was a small study trying to discover what pharmaceutical preparations were used by Marat.
What did they do?
They sampled the bathtub metal and the deposits of mineral materials inside the bathtub.
How did they do that?  He lived a long time ago.
Marat's bathtub was purchased by the Grévin Museum in Paris in 1886.  This is because Marat was assassinated while in his bathtub in his home in Paris by a woman called Charlotte Corday.  She was admitted to his room on the pretext of claiming his protection and then stabbed him in the heart.  She was summarily executed four days later.
His death was immortalised in the painting The Death of Marat by Jacques-Louis David which has been criticised since Marat's skin condition was not depicted.
What did the bath mineral analysis find?
The bath was essentially a copper bath (99.08% copper) with trace amounts of lead, zinc, antimony, arsenic, silver, gold, tin, cobalt and nickel in there too.
However the minerals deposited on the bath were mostly lead (64%), followed by copper  (19.9%), sulphur (6.9%), tin (4.5%) and calcium (2.4%).  There were trace elements of other elements also.
But lead is poisonous!
White lead was commonly used at the time by members of the upper class as makeup, to whiten the complexion, remove spots, wrinkles, roughness and redness.
The authors think the copper was simply contamination from the bathtub metal.  Sulphur, however, was thought to cure scabies, ringworm and other skin conditions and was also widely used, at the time, to treat haemorrhoids and lack of periods.
Thank goodness that times have moved on and even though we still don't have a cure for seborrhoeic dermatitis, the treatments we do have, namely topical antifungal agents and agents to target the low grade eczema are effective.
Kind regards,
Sandy
Dr Sandy Flann, Consultant Dermatologist