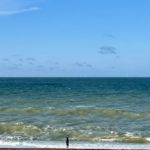 It looks like energy, who has it, who has the most and who can create it, is going to be one of the main sources of political strength for the years to come.  The war in Ukraine has shown us how dependency on another country lends to vulnerability and so we all are scrambling to ensure energy self-sufficiency in order to prevent this happening again.
However, energy demands are not on the decline and yet climate change is happening so in order for us to keep global warming to no more than 1.5 °C, emissions need to be reduced by 45% by 2030 and reach net zero by 2050 according to the Paris Agreement.
[https://unfccc.int/process-and-meetings/the-paris-agreement/the-paris-agreement]
In order for these targets to be met, new technologies of energy creation need to be embraced.  At the minute, the UK gets most of its energy from crude oil & natural gas liquids (42%) followed by natural gas (29%).  16% comes from nuclear, wind, solar and hydroelectric sources.
[www.gov.uk/government/statistics/uk-energy-in-brief-2022]
In order for us to meet our targets, over the next 20 years, low-carbon sources of energy supply are being expanded and encouraged by various initiatives and offshore and onshore wind turbines are key to this.
[https://commonslibrary.parliament.uk/where-will-britains-future-energy-supply-come-from/#:~:text=A%20major%20focus%20of%20the,as%20soon%20as%20possible%20thereafter%E2%80%9D.]
Renewable energy sources such as wind turbines are not without their own environmental impact though.  This is not just about the ruining the aesthetics of the countryside or seascape.  Several rare earth elements are necessary for the manufacture of the permanent magnets  found in wind turbines.  These rare earth elements are specifically neodymium, praseodymium, dysprosium and terbium and they are produced by mining, the majority of which is in China currently.
[Alves Dias, P., Bobba, S., Carrara, S., Plazzotta, B. (2020), The role of rare earth elements in wind energy and electric mobility, EUR 30488 EN, Publication Office of the European Union, Luxembourg, ISBN 978-92-79-27016-4, doi:10.2760/303258, JRC122671]
Where does this pertain to dermatology?
Well, I'm getting there.  Epoxy resins are materials used in the production of wind turbines.  This is because they are often used where high mechanical, chemical and thermal resistance is needed.  That's all fair and well but all types of epoxy resins (resins, hardeners, diluents and additives) can cause skin sensitisation and are one of the leading causes of work related allergic contact dermatitis.
[Aalto-Korte K, Pesonen M, Suuronen K. Occupational allergic contact dermatitis caused by epoxy chemicals: occupations, sensitizing products, and diagnosis. Contact Dermatitis 2015; 73: 336– 42.]
So unfortunately, there has now also been a study looking at the prevalence of skin sensitisation and dermatitis amongst workers involved in the production of wind turbine blades who are exposed to epoxy resins, even whilst using thorough safety measures.
[Christiansen AG, Carstensen O, Sommerlund M et al.  Prevalence of skin sensitization and dermatitis among epoxy-exposed workers in the wind turbine industry.  Br J Dermatol;
https://doi.org/10.1111/bjd.21830]
What did this study look at ?
It looked at 221 workers at two wind turbine blade factories in Denmark.  Of these 221 workers, 180 were production workers involved in manually handling epoxy resins from procedures expected to be a high risk of skin contamination and 41 were non-exposed office workers.
All study participants underwent a skin examination and were patch tested to a tailored panel containing epoxy-containing products used at the factories.
What did they find?
Skin sensitisation was not found in any of the office workers but was found in 8.9% of the production workers and skin sensitisation was more common in the first year of exposed employment.
Dermatitis was found more commonly amongst production workers and was even more common if they were sensitised to epoxy resins.  The group found a fourfold increased odds of dermatitis amongst workers sensitised to epoxy resins.
What kind of protective equipment was there in place?
Workers wear a protective suit with a hood, face shield, protective glasses, safety shoes and an apron, protective arm sleeves and chemically resistant disposable nitrile-rubber gloves.  Thin gloves provided protection for 0.5-8h but were never used for more than 0.5h and thick gloves provided protection for 8h but were changed every 2nd hour.
What type of work did they have to do?
The work looked at was hand lamination of the wind turbine blades.  Large defects are removed with an angle grinder and then a clear liquid epoxy is applied on fibreglass mats using a handheld roller.  Small casting defects are filled with a viscous epoxy filler and then smoothed with a scraper.  Each worker uses about 15kg of epoxy filler daily.
So in summary?
It shows that despite thorough health and safety policies and protective equipment, these measures are not enough to protect from sensitisation.
Hand dermatitis is generally not thought to be a major issue in most but for those in whom it is crippling, it may require leaving or switching jobs.
If wind turbine energy creation is to be expanded, it may be worth finding a new compound that has similar technical properties but less skin sensitising capacity.  And it may also be worth finding recycling opportunities (collection, dismantling and separation) for the rare earth metals used in the production of wind turbines.
Kind regards,
Sandy
Dr Sandy Flann, Consultant Dermatologist.