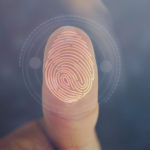 I don't know about you but one thing I found really frustrating in the pandemic (amongst other things!) was the inability to unlock my phone whilst wearing a face mask.  My dad, on the other hand, being a person slightly averse to new technologies has persisted with a phone with fingerprint recognition.  Even when his old phone died a death did my dad persist with purchasing another phone with fingerprint recognition because that was what he was used to.
So I found it really interesting to read in the March edition of Clinical and Experimental Dermatology of a case whereby a patient lost her fingerprint after the use of a cream we commonly prescribe in Dermatology.  The patient only realised she had lost the fingerprint of the affected finger when she could not unlock her mobile phone anymore.
[Chow WTH and Potter M.  Fingerprint loss associated with topical 5-fluorouracil cream.  Clin Exp Dermatol March 2022; doi: 10.1111/ced.15181]
What is 5-fluorouracil cream?
If you are a patient who frequents dermatology services for skin checks because you've had a lot of sun exposure, you may know this cream well.  We use it in the treatment of precancerous skin lesions called actinic keratoses and Bowen's disease.
How does it work?
I have heard it called a 'chemo cream' or I call it a 'cytotoxic cream'.  It works by inhibiting a certain enzyme called thymidylate synthetase which is required for the manufacture of DNA and RNA. DNA and RNA are required for cells to replicate and divide.   So rapidly dividing cells such as the cells in actinic keratoses which have been activated by sun exposure will be affected and these cells die.  It's pretty nifty really.  And it also means that nothing will happen to cells that are not rapidly dividing.
So how do you lose your fingerprints with 5-fluorouracil cream?
Unfortunately, this is not known and this is the first reported case of the loss of fingerprints with topical 5-fluorouracil cream.  What is known is that fingerprint loss or adermatoglyphia is commonly reported in patients on a drug called capecitabine.
What is capecitabine?
It is a chemotherapy drug commonly used in the treatment of metastatic bowel and breast cancers.  Capecitabine is a prodrug of 5-fluorouracil ie it is metabolised in the body into 5-fluorouracil which is the active compound.
It is extremely common during capecitabine therapy to develop what we call hand-foot syndrome where numbness, pain, skin swelling and redness amongst other skin manifestations develop on the palms and soles.  Adermatoglyphia has been reported as part of this hand-foot syndrome.
[Zhao J, Zhang X, Cui X et al.  Loss of fingerprints as a side effect of capecitabine therapy: case report and literature review.  Oncol Res 2020;28:103-6.]
Is the adermatoglyphia permanent?
The authors comment that the fingerprint loss with capecitabine is variable and sometimes they come back after capecitabine is discontinued.  In this particular case with topical Efudix cream, the fingerprint loss persisted until her 3-month review.
So basically, it's just to highlight to patients using Efudix and clinicians prescribing Efudix that this phenomenon can occur as it has an impact on not only phone accessibility but global travel, security access etc.
Kind regards,
Sandy
Dr Sandy Flann, Consultant Dermatologist.