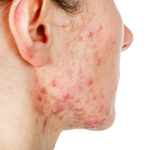 If the COVID pandemic has taught us one scientific thing, hopefully it is about the power of RNA based vaccines and their impact in diseases because of their shorter manufacturing times and their greater effectiveness.
It was interesting therefore to read of another use of RNA, namely micro RNA (miRNA) as a differential marker in different diseases.
What is micro RNA (miRNA)?
MiRNA are noncoding RNA molecules found in the body that reflect gene expression.  It is thought that they might influence up to 60% of all genes.
[Friedman RC, Farh kK, Burge CB et al.  Most mammalian mRNAs are conserved targets of microRNAs.  Genome Res 2009;19: 92-105.]
They are also expressed differently in different conditions, thereby allowing different diseases to have different or unique miRNA 'signatures'.
They have been found in atopic dermatitis, psoriasis, vitiligo and scleroderma.
The study in question was looking to see if there was such a 'signature' in acne and acne-associated scarring and whether circulating miRNA could be found in the blood of patients who are prone to scarring.
[Ghumra W, Lee N, Whitehouse H et al.  MicroRNAs as biomarkers of atrophic scarring in acne: a cross-sectional analysis of 41 patients.  Clin Exp Dermatol 2021; 46: 1495-1503.]
What did the study do?
The authors looked at 41 patients aged between 16-35 years with inflammatory acne, with or without acne scarring on the face and trunk, if they had not used topical acne therapy for the past 2 weeks, oral antibiotics for the past 4 weeks or oral isotretinoin for the past 6 months.  Anyone who used medications that affected wound healing or had a skin condition that affected wound healing were excluded.
What did they look at?
They looked at miRNA in the blood and the skin of the 41 patients and in 9 of the patients, they looked at miRNA in acne lesions as well as their normal skin.  In a further 8 patients, they looked at miRNA in acne lesions, normal skin and from biopsies of their acne scars too.
What did they find?
They found three miRNAs that were significantly overexpressed in acne lesions and also in uninvolved skin of patients with acne scarring.  They found that the levels of the three miRNAs ( miR-21, miR-150 and miR-223) were upregulated.
MiR-21 and miR-150 were similar in acne lesions and acne scars whereas miR-223 was higher in acne lesions than acne scars.  MiR-21 and miR-150 were also significantly elevated in the blood of patients prone to scarring.  However, the levels of miR-21 and miR-223 were higher in those with the mildest scarring, possibly indicating that they might be early markers for the development of acne scarring.
So what can we take from this?
It is known that acne scarring occurs from an abnormal inflammatory and repair response in the skin.  Also all three miRNAs, miR-21, miR-150 and miR-223 have been linked to conditions in which there is a proinflammatory cellular response.
miR-21 has been linked to conditions such as scleroderma, keloid and hypertrophic scar formation so appears to be linked with skin fibrosis.
miR-150 is associated with kidney fibrosis in lupus patients, but is downregulated in cutaneous lupus so it may be contributory and protective with respect to scarring.
miR-223 has been linked to hidradenitis suppurativa, psoriasis, atopic dermatitis and rheumatoid arthritis, all chronic inflammatory diseases.
The future?
This was a small study on 41 patients only and clearly, larger studies need to be done to expand upon this further.
However, it is a useful pilot study as it shows that there may well be a biomarker that we can test in the blood of acne patients that will tell us who will scar and thereby would benefit from accelerated referral for effective therapy before that happens.
Kind regards,
Sandy
Dr Sandy Flann, Consultant Dermatologist