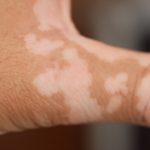 My husband has two common conditions.  He has vitiligo which is relatively stable and been going for some years and he has developed some sort of hearing loss in recent years.  Now, the standard rigmarole is for him to say "Pardon?" with a perplexed expression whenever we mention it and which then morphs into extreme satisfaction when he sees the frustration on (usually my) face.  We've had an opinion from an ENT surgeon, we've had hearing tests, we've had olive oil drops, you name it and no one has been able to improve upon the situation.  I was at the point where I thought the 'hearing loss' was put on in certain scenarios only…
Anyway, it was interesting to read in the August edition of Clinical and Experimental Dermatology of a study which found hearing loss and eye abnormalities in patients with vitiligo.
[Genedy R, Assal S, Gomaa A et al.  Ocular and auditory abnormalities in patients with vitiligo: a case-control study.  Clin Exp Dermatol 2021, 46: 1058-66.]
What did the study look at?
In the study, they looked at 40 patients with vitiligo and 20 matched healthy controls who did not have vitiligo.
They then completed full auditory (ear) and ocular (eye) examinations on all of them.
What did the study show?
They found a significantly higher prevalence of hearing loss among those with vitiligo than those without.
They also found a significantly higher rate of abnormal eye findings in vitiligo patients than those without vitiligo but there was no significant difference with regards to visual acuity ie eyesight.
Six of the seven patients who were found to have hearing loss were also found to have abnormal ocular findings and hearing loss was also more common in those with abnormal ocular findings too, ie the other way around.
Why does this happen?
Well, vitiligo is a disease whereby there is destruction of the pigment producing cells in the skin (melanocytes).  Melanocytes are not just found in the skin, they are found at the back of the eye, in the hair follicle, in the ears, brain and parts of the heart.
The melanocytes in the eye help protect the eye against ultraviolet radiation (amongst other functions) and it was interesting to find that the melanocytes in the ear are important for hearing also.
Do other studies back up this evidence?
Yes, it has been found in several studies that there is a higher prevalence of hearing loss in patients with vitiligo.
[Tosti A, Bardazzi F, Tosti G et al.  Audiologic abnormalities in cases of vitiligo.  J Am Acad Dermatol 1987; 17:230-3.]
[Dawoud EAE, Ismail EL, Eltoukhy SA et al.  Assessment of auditory and vestibular functions in vitiligo patients.  J Otol  2017; 12:143-9.]
So will treating vitiligo in the ear resolve the hearing loss?
The authors do not touch upon this area.  It would technically be a difficult area to treat as topical steroids will not be able to reach the middle ear (the ear drum would be in the way!) and we shouldn't be poking things down our ears anyway.
They do conclude, however, that vitiligo patients should be assessed for ocular and auditory abnormalities.  And I might have to apologise to the husband for suspecting his hearing loss was anything otherwise…!
Kind regards,
Sandy
Dr Sandy Flann, Consultant Dermatologist.