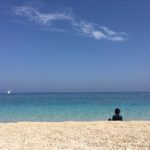 January in the northern hemisphere is hardly the time to be stocking up on sunscreens.  We do actually keep a fully stocked, big bag of sunscreens by the back door for everyone to have access to before they go out.  It also makes it easier when we go on holiday for me to just slot that bag in a suitcase.  And I must admit, I look rather wistfully at that big bag of sunscreens now as it is a symbol of something that may or may not happen this year, depending on vaccines, quarantines, rapid pcr tests and novel mutations.
It was, however, interesting to read of a microscopic creature that may help in the creation of sunscreens.
What creature would this be?
I'm talking about the tardigrade, or its other name is a "moss piglet."  These are microscopic creatures that live in water or in moss or lichen, hence the name.  They look very odd, like all things microscopic tend to look.  If you have ever watched the Disney plus series "The Mandalorian" and see a giant sand worm in it, you kind of get the picture.
How can these creatures help in the creation of sunscreens?
Well tardigrades are renowned for their hardiness.  They can go for years without food or water and can survive freezing and boiling.
[Jönsson KI, Holm I, Tassidis H.  Cell Biology of the Tardigrades: Current Knowledge and Perspectives.  Results Probl Cell Differ 2019;68:231-249.]
It is now becoming evident that they are also tolerant to radiation.
[Jönsson KI.  Radiation Tolerance in Tardigrades: Current Knowledge and Potential Applications in Medicine.  Cancers (Basel).  2019;11(9):1333.]
How do they do it?
We don't know.   But scientists have discovered a species of tardigrade that can endure lethal UV light rays that normally kill off hard-to-kill viruses and bacteria.
Researchers at the Indian Institute of Science exposed the tardigrades to a germicidal UV lamp.  This normally kills off bacteria and roundworms after 5 minutes.  It was lethal to normal tardigrades at 15 minutes and most died after 24 hours.  However, when they tried it on a the new species of tardigrade, part of the Paramacrobiotus genus, it survived and around 60% lived for more than 30 days.
What was special about this new species of tardigrade?
What was even more interesting was that when they examined this new species under an inverted fluorescence microscope they found that these reddish brown tardigrades glowed bright blue.  This is because of fluorescent pigments under the tardigrades' skin which transform the UV light into harmless blue light.
Can this fluorescent pigment be used?
Well yes.  The researchers extracted the fluorescent pigments and coated or shielded some earthworms with them.  The coated earthworms survived at almost twice the rate of those without the coating or shield.
The future?
Well the researchers think that the tardigrades evolved the fluorescence to tolerate the high doses of UV found in the summer in southern India.  They mean to study the composition of the fluorescent pigment with a view to using it to make sunscreens.
[Suma HR, Prakash S, Eswarappa SM.  Naturally occurring fluorescence protects the eutardigrade Paramacrobiotus sp. from ultraviolet radiation.  Biol Lett. 2020;16(10):20200391.]
Kind regards,
Sandy
Dr Sandy Flann, Consultant Dermatologist.