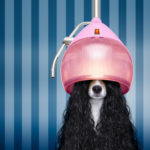 When Lockdown Version 1 happened, my hair really suffered, like I'm sure a lot of you.  We were unprepared and then when we realised it was going to last several months, getting hold of home haircut sets and hair dye was virtually impossible.  My family eventually settled for our version of a 'Home Hair Salon' outside on the patio which entailed a sort of conveyor belt with me, a barstool, a buzzy thing and a pair of scissors and a dustpan and brush (or a vacuum on rainy days) at the centre.  And, most importantly, it didn't really matter what anyone looked like at the end of it because they were all working from home!
Now in Lockdown Version 2, we had slightly more time to prepare.  Nevertheless, I did ring my hairdresser just before to see if he could squeeze me in but as he was run off his feet and I was run off my feet, there was no time.  Now the end of lockdown is in sight and even though Kent is going into Tier 3 (!!!), seemingly I, and everyone else, can still get our hair cut.  Phew!
Did you ever wonder what happened to all the hair we leave behind at the hair salon?  By and large, it probably goes in the bin.  However, it was interesting to read that there is a scheme in southwest France where the waste hair from hair salons is recycled.
How can waste hair be recycled?
It is used to aid in the clean up from oil spills.  The company, called Coiffeurs Justes was founded in 2015 by Thierry Gras.  They collect human hair from hair salons all over France, and other countries including Germany, Belgium and Luxembourg.  A hair salon collects an average of 29kg of waste hair a year.  They then stuff the hair into nylon stockings which create floating tubes that line harbours and soak up the oils.
[https://www.sciencetimes.com/articles/27423/20200923/france-uses-discarded-human-hair-oil-clean-up-operations.htm]
How does hair clean up oil?
Hair is lipophilic and so absorbs fat and hydrocarbons.
How do they know it will work?
There has been precedence.  In 1978, the Amoco Cadiz tanker ran aground off the coast of Brittany and split into three.  At the time it was the largest oil spill to date.  The combination of rough seas and oil resulted in formation of a "chocolate mousse" emulsification of oil and water that greatly complicated clean up efforts.
The Breton fishermen traditionally used sponges made of hair to recover fat in the home so the idea of using hair to clean up oil spills came from there.
[https://www.france24.com/en/20200923-in-france-salons-send-human-hair-to-help-clean-up-polluted-water]
Hair has also been used more recently in the oil leak from the Japanese bulk carrier MV Wakashio that ran aground on a coral reef off the coast of Mauritius earlier this year.
[https://www.bbc.co.uk/news/world-africa-53797009]
There are now over 3000 participating hair salons.  If I end up doing more home hair cuts, I may also ask if I can contribute!
The future?
There are hopes that hair may also be able to remove micropollutants that are a pretty constant feature in the water in ports which would be fantastic.
Kind regards,
Sandy
Dr Sandy Flann, Consultant Dermatologist.