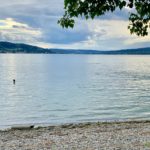 My youngest enjoys his swimming and partakes in a local swimming club on a rather regular basis.  With the easing of lockdown in the UK, his club restarted a few weeks ago.  He was especially jubilant, his siblings were a little jealous (as it was hot and the pool looked so inviting) and we, as parents were a little anxious.  However, the club were at great pains to explain the new procedures put in place taking into account the COVID regulations which look to be with us for the foreseeable future and all has been well, so far.
At the time of writing, we have managed to escape on holiday to a country on a travel corridor with the UK.  Face masks and social distancing are the norms here.  We've all even managed to go swimming, albeit in a river or lake and on the odd occasion in a lido.
It was interesting, therefore to read in the July/August edition of Pediatric Dermatology of a case of pool palms.
[Knöpfel N, Steiner B, Schweiger-Briel A.  Reddened palms.  Pediatr Dermatol 2020;37:732-33.]
What are pool palms?
Well, the case was of a 14-year old girl who presented at the beginning of the summer with recurrent redness of the fingertips.  They would appear in the evening but then subside without any treatment a few days later but would then recur.  She was well throughout.
Is it the whole palm affected?
By and large it appears to affect the palmar aspect of the end of the fingers or the fingerpads but can also affect the rest of the palmar aspect of the fingers, the palms and also the toe pads.
Why does it occur?
It is thought to be due to a frictional dermatitis due to prolonged immersion in water causing hyperhydration of the top layer of the skin, the so called stratum corneum, followed by repeated contact with the rough surface at the bottom or sides of swimming pools.
[Blauvelt A, Duarte AM, Schachner LA.  Pool palms.  J Am Acad Dermatol.  1992;27:111.]
[Mandojana RM.  Pool palms.  J Am Acad Dermatol.  1993;28:280.]
[Wong L-C, Rogers M.  Pool palms.  Pediatr Dermatol.  2007;24:95.]
It is not seen when children swim in lakes or the sea or ocean.
Why does it only affect children?
It is thought that it only affects younger children because of their increased likelihood to play games in the pool rather than swim.  Indeed one of the cases in the literature had revealed on further questioning that she had just learnt to dive to retrieve her goggles from the bottom of the pool and had been pushing off from the bottom of the pool.
And the treatment?
Nothing needs to be done other than reassurance, especially if the history is typical.  The reddened areas should resolve spontaneously once the triggering activity is stopped.
Kind regards,
Sandy
Dr Sandy Flann, Consultant Dermatologist.