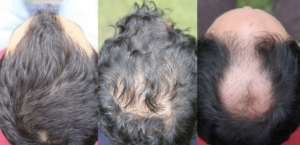 Since the coronavirus pandemic started, we've all heard of how children are disproportionately protected from severe disease and then we started hearing that adult women were more protected than adult men from severe disease.
[Guan WJ, Ni ZY, Hu Y, Liang WH, Ou CQ, et al. Clinical characteristics of coronavirus disease 2019 in China. N Engl J Med. 2020; [Epub ahead of print]. https://doi.org/10.1056/NEJMoa2002032]
There have therefore been suggestions that the male hormones (androgens) are implicated in severity of COVID-19 infection.
[Goren A, McCoy J, Wambier CG et al.  What does androgenetic alopecia have to do with COVID-19?  An insight into a potential new therapy.  Dermatol Ther.  2020;e13365. doi: 10.1111/dth.13365.  Online ahead of print.]
How does coronavirus enter cells?
SARS-CoV-2, which is the virus that causes the disease COVID-19 enters cells using a viral spike surface protein.  This requires priming by an enzyme present in the host (or sufferer/patient) called transmembrane protease serine 2 (TMPRSS2).
There were many discussions also at the beginning of the pandemic about ACE2 molecules and we now know that ACE2 is the attachment molecule to the viral spike surface protein and is termed the "receptor of SARS-CoV-2."
[Hoffmann M, Kleine-Weber H, Schroeder S et al. SARS-CoV-2 cell entry depends on ACE2 and TMPRSS2 and is blocked by a clinically proven protease inhibitor. Cell. 2020; [Epub ahead of print]. https://doi.org/10.1016/j.cell.2020.02.052.]
[Qiu Y, Zhao Y-B, Wang Q, et al. Predicting the angiotensin converting enzyme 2 (ACE2) utilizing capability as the receptor of SARS-CoV-2. Microbes Infect. 2020; https://doi.org/10.1016/j.micinf.2020.03.003. ]
How are androgens implicated?
In order for TMPRSS2 to be produced or made in the body, androgen receptor activity is required.  Expression of TMPRSS2 in certain male organs such as the prostate is also regulated by androgens.
ACE2 is also found to have higher activity in males and is also affected by androgens.
[Wambier CG, Goren A, Vaño-Galván S et al.  Androgen sentisitivity gateway to COVID-19 disease severity.  Drug Dev Res.  2020 :10.1002/ddr.21688. doi: 10.1002/ddr.21688. Online ahead of print.]
So is this where the baldness bit comes in?
Yes.  A preliminary study in Spain, published in April 2020 showed that out of 41 adult Caucasian males admitted to hospital with bilateral SARS-CoV-2 pneumonia, 71% had clinically significant male pattern baldness.  Of these 39% had severe male pattern baldness.
[Goren A, Vaño-Galván S, Wambier CG et al.  A preliminary observation: Male pattern hair loss among hospitalized COVID-19 patients in Spain – A potential clue to the role of androgens in COVID-19 severity.  J Cosmet Dermatol.  2020 ;19(7):1545-1547. doi: 10.1111/jocd.13443. Epub 2020 Apr 23.]
The authors went on to write another paper suggesting that other features of what we call 'hyperandrogenism' which include increased density of facial and chest hair, acne and oily skin might theoretically correlate with increased viral load of COVID-19, increased viral spread and increased severity of lung involvement.
[Wambier CG, Goren A.  Severe acute respiratory syndrome coronavirus 2 (SARS-CoV-2 infection is likely to be androgen mediated.  J Am Acad Dermatol.  2020:308-309. doi: 10.1016/j.jaad.2020.04.032. Epub 2020 Apr 10.]
And there are suggestions that androgens might explain the racial differences too…
It is noted that there are racial variations in other androgen-mediated conditions also, for example prostate cancer.
Why is this?  Let's look at the science.
Well, the gene for the androgen receptor has an area where there can be different segments of gene at that site and these are called polymorphisms.  In this section of the gene are something called CAG repeats which is a series of three DNA building blocks (cytosine, adenine, guanine hence CAG) which appear multiple times in a row.
A shorter CAG repeat length in the androgen receptor gene predisposes that man to male pattern baldness, acne and oily skin.
[Ellis JA, Stebbing M, Harrap SB.  Polymorphism of the androgen receptor gene is associated with male pattern baldness.  J Invest Dermatol.   2001;116(3):452-5. doi: 10.1046/j.1523-1747.2001.01261.x.]
African Americans also tend to carry a shorter version of the CAG repeat in the androgen receptor gene and are reported to be at higher risk of aggressive prostate cancer.
[Bennett, C. L., Price, D. K., Kim, S. et al. Racial variation in CAG repeat lengths within the androgen receptor gene among prostate cancer patients of lower socioeconomic status.  Journal of Clinical Oncology.  2002:20; 3599–3604.]
[Kim HS, Moreira DM, JayaChandran J et al.  Prostate Biopsies From Black Men Express Higher Levels of Aggressive Disease Biomarkers Than Prostate Biopsies From White Men.  Prostate Cancer Prostatic Dis.  2011 Sep;14(3):262-5. doi: 10.1038/pcan.2011.18. Epub 2011 Apr 26.]
So where to from here?
Well as you can imagine, studies are being undertaken to look at these CAG length polymorphisms amongst patients hospitalised with COVID-19 infection.
If androgen sensitivity is confirmed as a marker of SARS-CoV-2 disease severity then anti-androgen pills might be a means of treatment possibly with other drugs such as TMPRSS2 inhibitors.
[McCoy J, Wambier C,  Vaño-Galván S et al.  Racial Variations in COVID-19 Deaths May Be Due to Androgen Receptor Genetic Variants Associated with Prostate Cancer and Androgenetic Alopecia.  Are Anti-Androgens a Potential Treatment for COVID-19?  J Cosmet Dermatol. 2020 Jul;19(7):1542-1543. doi: 10.1111/jocd.13455. Epub 2020 Jun 14.]
Kind regards,
Sandy
Dr Sandy Flann, Consultant Dermatologist