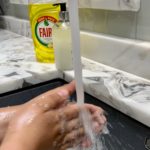 At the time of writing this blog, we are in the middle of lockdown with the prospect of possibly another 3-4 weeks of lockdown to continue.  We should all hopefully be observing the government advice of staying at home as much as possible, only venturing out once a day if we need to exercise, get essential groceries or go to work if we can't work at home.  If we have been out of the house, it is extremely important to use alcohol sanitiser regularly and after touching any object and/or to wash our hands for at least 20 seconds with soap and water.
Now anyone who has hand eczema or eczema elsewhere or just dry skin must be suffering with dry, red, cracked hands and fingers by now.  The traditional advice for eczema sufferers is to reduce wet work and use soap substitutes instead of soap.  Now this advice is hard to implement in eczema patients in the current coronavirus pandemic.
Why?
The coronavirus has a lipid envelope and is a lipid soluble virus.  Therefore the worry with using soap substitutes to wash the hands is that they won't properly clean the hands of coronavirus and may even trap it next to the skin under the lipid layer of the soap substitute.
[Schoeman D and Fielding BC.  Coronavirus envelope protein: current knowledge.  Virology Journal 2019;16:69.]
I have hand eczema.  What should I do then?
Many of us have been advising patients to use soap and water to wash the hands and just apply lots of emollients afterwards to combat the subsequent dryness.  It was however extremely helpful to have this backed up by Professor Hywel Williams, Professor of Dermato-Epidemiology at the University of Nottingham who also has a lifelong interest in eczema and eczema research.
[https://mediaspace.nottingham.ac.uk/media/COVID-19+hand+washing+advice/1_wlufymil?fbclid=IwAR1B5mlM4EYu1QUHwRQqn-3kmNOzbIAYV0lqSanL3EqKU78a-F-yiLkUfEw]
What does he say?
Essentially the advice is to follow the government guidelines of using soap and water to wash the hands for at least 20 seconds.  Then lots of moisturiser should be applied after to counteract the dryness.  If that doesn't help, then after washing the hands with soap and water, you can use your normal soap substitute to wash the hands a second time and then apply your normal moisturiser.  If your hand eczema is still bad then you can also apply your normal topical steroid (this should be something of moderate to severe potency as the skin on the hands is quite tough) as you would normally for a flare in your eczema together with lots of your normal moisturiser.
Hopefully that advice will hold our hand eczema sufferers in good stead until we emerge from lockdown and this pandemic, which we will do eventually!
Kind regards,
Sandy
Dr Sandy Flann, Consultant Dermatologist.