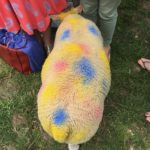 The May 2019 edition of the British Journal of Dermatology had an interesting paper on dermatological identifiers of underlying cardiac disease.
[Maruthappu T, Posafalvi A, Castelletti S et al. Loss-of-function desmoplakin I and II mutations underlie dominant arrhythmogenic cardiomyopathy with a hair and skin phenotype. Br J Dermatol 2019; 180: 1114-1122.]
I say this is interesting because I'm sure we have all heard of cases of sudden cardiac death in an otherwise healthy young person, where no cause can be found for the cause of death.
Dermatologists have always said that the skin is an important organ, not only for its obvious functions of holding our organs together, keeping us warm, relatively waterproof and providing a barrier to infection (and making us look nice!) but also because many medical conditions can often be diagnosed by looking at the skin.
What does this paper look at?
This study looks at arrhythmogenic cardiomyopathy (AC). This is an inherited cardiac disorder where there is a high risk of cardiac rhythm abnormalities and is a cause of sudden cardiac death in a young person aged less than 35 years.
The main problem in diagnosing AC is that those with the condition can have no symptoms for many years.
What is the underlying problem in arrhythmogenic cardiomyopathy?
The underyling problem is a mutation in a structure called a desmosome. A desmosome is a structure which holds cells together and in AC it is the desmosomes that hold the heart (cardiac) cells together that are affected.
How does a problem in a desmosome affect the skin?
Desmosomes are also needed to hold skin cells together. Mutations in desmosomal proteins can also cause unique diseases where those affected have 'woolly' hair and pronounced thickening of the skin of the palms and soles (keratoderma) from infancy.
What did this study do?
The study looked at 6 families with a history of AC, looking at first- and second-degree relatives. Skin and hair characteristics were recorded, skin biopsies were performed and cardiac investigations were performed eg ECGs, exercise testing.
What did they find?
They found that all those with mutations in the desmosomal protein had curly hair at an incidence five times that of the general population. The hair was reported to be tightly curled with a coarse, wiry texture.
Those in the same family without the mutation were found to not have curly hair.
Thickening of the palms and soles was a little more variable with some having a band-like area of thickened skin on the footpad while others had more focal thickening of pressure-bearing areas on the soles or callus formation on the palms after physical activity. Many complained of having painful, hard skin on the feet requiring regular filing or removal with a razor.
So if I know someone with curly hair and calluses, I should warn them of the possibility of cardiac problems?
I am not sure that is what the authors are intending with their study.  They comment that the presence of curly hair and keratoderma is a useful identifier in clinical practice, especially when doing screening of families for AC, even more so when identifying those at high risk who would benefit from further tests.
Kind regards,
Sandy
Dr Sandy Flann, Consultant Dermatologist