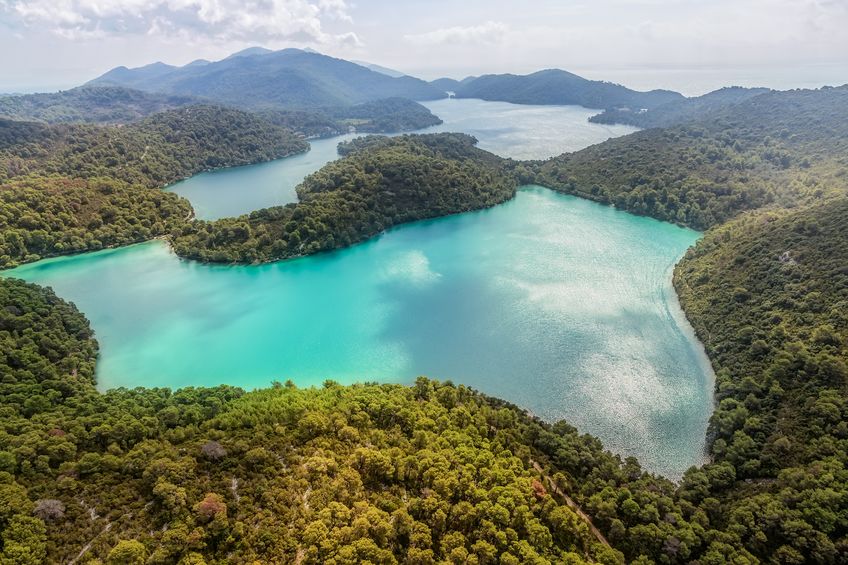 At the time of writing, I have just returned from the European Society of Paediatric Dermatology in Dubrovnik.
Of course, all things to do with Paediatric Dermatology are refreshed and new advances have been illuminated. 
I always enjoy a bit of historical culture and I thought it particularly interesting to hear that the Croatian island, Mljet is thought by locals to be Ogygia, or the island of the nymph Calypso in Greek mythology, though Malta also is thought to lay claim to this assertion. It is thought that Odysseus remained on Ogygia for seven years during which time Calypso gave birth to two sons.
It was also interesting to hear that Mljet is the island where the rare genetically transmitted skin condition, Mal de Meleda was first described by Luco Stulli in 1826. Meleda is the Italian name for the island of Mljet. The reason a rare genetically transmitted skin condition was found on such a small island was because the island had only a few families who were fairly isolated from the rest of the world. This was because it had traditionally been used as a place for the quarantine of leprosy patients over the centuries.
[Bakija-Konsuo A, Mulic R, Boraska V et al.  Leprosy epidemics during history increased protective allele frequency on PARK2/PACRG genes in the population of the Mljet Island, Croatia.  Eur J Med Genet.  2011; 54(6):e548-52.]
This isolation together with breeding between these few families (called consanguinity) had allowed genes that would be quite rare to find in the general population, more prevalent in the small population on Mljet island.
[Saftic V, Rudan D, Zgaga L.  Mendelian diseases and conditions in Croatian island populations: historic records and new insights.  Croat Med J 2006;47(4):543-52.]
What is Mal de Meleda?
In Mal de Meleda, the affected individuals have problems with the skin of the palms and soles primarily. The condition can start in the first few weeks or months of life with redness of the skin of the palms and soles. Over time, the skin on the palms and soles becomes thickened and the hands can become contracted. Affected individuals will have problems with excess sweating and thence body odour. As the individual gets older, the thickened skin can spread up the sides of the hands and feet and elbows and knees can also become involved. Nails can become affected and other skin lesions can also develop.
[Bakija-Konsuo A. Mal de Meleda – Through History and Today. Acta Dermatovenerol Croat 2014;22(2):79-84]
Why does it happen?
Legend has it that an elder of a respectable family on the island of Mljet desecrated the eucharist sacrament because of a local feud. From that moment, this elder and his descendants bore a sign on their hands as a lasting visible symbol of God's punishment.
[Bakija-Konsuo A. Mal de Meleda – Through History and Today. Acta Dermatovenerol Croat 2014;22(2):79-84]
We now know that mutations in the ARS gene which codes for a protein called SLURP-1 on chromosome 8 have been found in individuals with Mal de Meleda.
However Mal de Meleda is inherited as a recessive disorder.
What is a recessive disorder?
This occurs when an affected individual inherits the abnormal gene for the same condition from both parents. If an individual just has one abnormal gene and one normal gene then they won't show any symptoms but they will just be a carrier (ie just carry the abnormal gene).
Therefore if two parents are carriers, they have a 25% chance of having an affected child, 25% chance of having a child with normal genes and a 50% chance of having a child who is a carrier.
If there is consanguinity, ie the parents are related, there is a higher risk that the parents' genes will be similar and thereby they will have a greater risk of carrying the same abnormal gene which thereby increases the risk of having children with recessive genetic disorders.
What can be done for individuals with the condition?
The mainstay of treatment is supportive and symptomatic and will be likely to involve dermatologists, paediatricians, geneticists and others depending on the local services.
Cases have now been described in other Mediterranean countries and in the Middle East, presumed to be because these countries were on the medieval trade route from the former Republic of Dubrovnik.
[Bakija-Konsuo A. Mal de Meleda – Through History and Today. Acta Dermatovenerol Croat 2014;22(2):79-84]
However, cases have now been described in the Far East in countries with no historical connection with Croatia.
Genetic counselling is helpful for the affected individual and their families.
It has certainly inspired enough interest for us to revisit the area on our next family holiday!
Kind regards,
Sandy
Dr Sandy Flann, Consultant Dermatologist