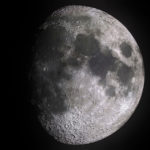 The dark side of the moon – it's something that's received a lot of attention over the years with all sorts of songs and albums written about it.   And then in the week prior to writing this blog, the Chinese landed on the dark side of the moon, a major landmark in space exploration.
What has this got to do with dermatology?
Well the Chinese have been busy in the world of dermatology too. They may have helped in the discovery of a novel treatment for eczema.
What treatment is this?
The plant Cnidium monnieri (sometimes known as Monnier's snowparsley or She Chuang Zi) is endemic throughout China. It has been used for thousands of years in Chinese herbal medicines for a variety of ailments but more prominently can be used topically to help with itchy skin conditions such as eczema.
What is the active agent in Cnidium?
Contrary to popular Western belief, it is not a topical steroid. Cnidium monnieri contains many chemicals but the main active ones are called coumarins and one coumarin called osthole is responsible for the main pharmacological effects.
[Li YM, Jia M, Li HQ et al. Cnidium monnieri: A Review of Traditional Uses, Phytochemical and Ethnopharmacological Properties. Am J Chin Med 2015;43(5):835-77.]
So how does osthole work?
The molecular mechanism by which osthole worked has not been known for many years until recently.
Let's talk about itch pathways first…
We all know that histamine can cause itch and thereby antihistamines can help relieve itch but we all know that often antihistamines help a bit but we can still be left itchy. Therefore there are other pathways involved in the generation of itch.
It has been known for some time that there are specific channels found in human skin cells that are involved in itching, of which the transient receptor potential vanilloid (TRPV) cation channel has gained prominence.   TRPV1 and TRPV3 have been implicated in the development of itch.
[Xie B, Li X-Y. Inflammatory mediators causing cutaneous chronic itch in some diseases via transient receptor potential channel subfamily V member 1 and subfamily A member 1. J Dermatol 2018; doi: 10.1111/1346-8138.14749]
[Steinhoff M and Bíró Tamás. A TR(I)P to Pruritus Research: Role of TRPV3 in Inflammation and Itch. J Invest Dermatol 2009;129:531-535.]
Does osthole work via TRPV channels?
Yes, it is thought to work by blocking TRPV3 and blocking of this channel was found to significantly reduce scratching.
[Sun XY, Sun LL, Qi H et al. Antipruritic Effect of Natural Coumarin Osthole through Selective Inhibition of Thermosensitive TRPV3 Channel in the Skin. Mol Pharmacol 2018;94(4):1164-1173.]
Forsythoside B (a chemical isolated from plants of the genus Forsythia) has also been also shown to block TRPV3 channels.
[Zhang H, Sun X, Qi H et al. Pharmacological Inhibition of the Temperature-Sensitive and Ca2+ – permeable Transient Receptor Potential Vanilloid TRPV3 Channel by Natural Forsythoside B Attenuates Pruritus and Cytotoxicity of Keratinocytes. J Pharmacol Exp Ther 2019;368(1):21-31.]
And what about TRPV1?
This has also been assessed. A recent published study in the British Journal of Dermatology looks at a cream called PAC-14028 in the treatment of mild-to-moderate atopic dermatitis.
[Lee YW, Won C-H, Jung K et al. Efficacy and safety of PAC-14028 cream – a novel, topical, nonsteroidal, selective TRPV1 antagonist in patients with mild-to-moderate atopic dermatitis: a phase IIb randomized trial. 2019; DOI 10.1111/bjd.17455]
In this 8-week study, 194 adult patients were selected to apply three different strengths of PAC-14028 cream (and there was a control group that applied vehicle only ie just the moisturizer part of the cream).
All three groups showed improvement in eczema at 8 weeks and the improvement was significantly greater in the group that applied the highest strength of 1.0%. This group also had the greatest reduction in itch and sleep disturbance. Treatment related side effects were not reported.
As usual…
Further studies are needed, ideally with a study with a larger sample size and over a longer period of time and also comparing it to other standard topical treatments we use in eczema such as topical steroids and topical calcineurin inhibitors. However, things do look promising in the world of eczema research!
Kind regards,
Sandy
Dr Sandy Flann, Consultant Dermatologist