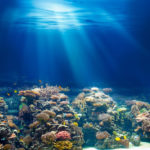 In a previous blog we discussed how most sunscreen formulations contain elements that are damaging fragile marine ecosystems causing, for example, bleaching of coral. The Environmental Effects Assessment Panel of the United Nations Environment Programme has expressed concerns about this and the Community Rolling Action Plan of the European Chemicals Agency has listed 8 out of 16 commonly used UVR filters in Europe because of potential eco-toxicity and dangers to human health.
[Bais AF, Lucas RM, Bornman JF et al. Environmental effects of ozone depletion, UV radiation and interactions with climate change. UNEP Environmental Effects Assessment Panel, 2017. Photochem Photobiol Sci 2018;17:127-79.]
[Agency EC. Community Rolling Action Plan (CoRAP) List. Available at : https://echa.europa.eu/information-on-chemicals/evaluation/community-rolling-action-plan/corap-table.]
But in the end of the day, we still need sunscreens to prevent damage to the skin from UV radiation.
So what can be done about this?
Apart from sun avoidance and the wearing of UV protective garments, the choice is still limited. However, hope is on the horizon.
In what way?
Well, we're not the only species that needs protection from ultraviolet rays. Marine species living in shallow-water habitats where they are exposed to intense UV radiation, protect themselves by producing naturally occurring UVR-absorbing compounds called mycosporine-like amino acids (MAA).
[Barceló-Villalobos M, Figueroa FL, Korbee N et al. Production of Mycosporine-Like Amino Acids from Gracilera vermiculophylla (Rhodophyta) Through One Year in an Integrated Multi-trophic Aquaculture (IMTA) system. Mar Biotechnol (NY) 2017;19:246-54.0]
[Bhatia S, Garg A, Sharma K et al. Mycosporine and mycosporine-like amino acids: A paramount tool against ultra violet irradiation. Pharmacog. Rev 2011;5:138-146.]
The most photostable of these mycosporine-like amino acids is called palythine.
[Conde FR, Churio MS, Previtali CM. Experimental study of the excited-state properties and photostability of the mycosporine-like amino acid palythine in aqueous solution. Photochem Photobiol Sci 2007;6:669-74.]
So if we eat seaweed, will we be protected from the sun?
Many algae, fungi and plants can synthesise these MAAs but animals cannot. However, eating MAAs hasn't really been shown to be of benefit to mammals. Medaka fish fed a diet rich in MAAs only showed traces of MAA in their skin but MAA was not found at all the skin, eyes or liver of hairless mice fed a similar diet.
[Mason DS, Schafer F, Shick JM et al. Ultraviolet radiation-absorbing mycosporine-like amino acids (MAAs) are acquired from their diet by medaka fish (Oryzias latipes) but not by SKH-1 hairless mice. Comp Biochem Physiol A Mol Integr Physiol. 1998;120:587-98.]
And do they work?
Porphyra -334, one type of MAA was shown to prevent photoaging in UVA-irradiated human skin cells.
[Ryu J, Park SJ, Kim IH et al. Protective effect of porphyra-334 on UVA-induced photoaging in human skin fibroblasts. Int J Mol Med 2014;34:796-803.]
Other MAAs have also shown UV protective activity on human skin cells.
[Ishihara K, Watanabe R, Uchida H et al. Novel glycosylated mycosporine-like amino acid, 13-O-(ß-galactosyl)-porphyra-334, from the edible cyanobacterium Nostoc sphaericum-protective activity on human keratinocytes from UV light. J Photochem Photobiol B. 2017;172:102-8.]
The British Journal of Dermatology recently published an article demonstrating the photoprotective effect of the most photostable MAA, palythine on human skin cells.
[Lawrence KP, Gacesa R, Long PF et al. Molecular photoprotection of human keratinocytes in vitro by the naturally occurring mycosporine-like amino acid palythine. Br J Dermatol 2018; 178: 1353-63.]
So why aren't we putting these MAAs into sunscreens?
There is, apparently, one MAA product available using MAAs extracted from the red alga Porphyra umbilicalis but this contains a tiny quantity of MAA in the final product which contributes a negligible, if any, effect on the SpF of the product. There is also a current poor understanding of how to produce specific MAAs in an industrially economically way, other than farming huge quantities of seaweed. Also, the chemical structure of MAAs make them highly difficult to artificially synthesise.
[Lawrence KP, Long PF and Young AR. Mycosporine-like Amino Acids for Skin Photoprotection. Curr Med Chem 2017;24:1-16.]
However, the potential is there and clearly further studies are required.
Hopefully, we won't be waiting too long!
Kind regards,
Sandy
Dr Sandy Flann, Consultant Dermatologist.