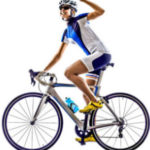 A couple of our family members are rather keen cyclists. At the time of writing, a school holiday is looming and a cycling holiday is to be expected. It was interesting that Radio 4 broadcast an interview with Dr Jane Sterling, a Consultant dermatologist at Addenbrooke's hospital on vulval health in female cyclists not long ago.
I didn't know there was a problem with vulval health in female cyclists.
It is fairly well recognized that keen male cyclists can experience symptoms such as numbness, erectile dysfunction and impotence. But vulval pain in keen female cyclists is also common and only recognized as a real problem in recent years.
It was in the run up to the London 2012 Olympics when Victoria Pendleton had saddle issues that British Cycling uncovered how major the problem was.
Why does it happen?
It is due to prolonged contact with the saddle with pressure, friction, rubbing and restriction of blood flow to the area.   The rubbing and friction can lead to loss of the surface layer of the skin (the epidermis) and the development of blisters and ulcers.   Damage to the layer beneath the epidermis (the dermis) where the blood and lymphatic vessels are situated leads to bruising and swelling.
[https://www.britishcycling.org.uk/knowledge/article/izn20160510-Set-up-Women%E2%80%99s-saddle-issues-0]
[Baeyens L, Vermeersch E, Bourgeois P. Bicyclist's vulva: observational study. BMJ 2002;325:138.]
What did British Cycling do?
They put together a group of experts, amongst whom was Dr Sterling, to look at the problem and come up with solutions.
What did they find?
I think the major finding, especially in professional female cyclists, was of the ruling by the UCI (Union Cycliste Internationale) that saddles were only allowed a tilt of less than 2.5 degrees with a 0.5 degree margin of error. Since this discovery, the UCI have since increased the angle of tilt to 9 degrees with a 1 degree margin of error and this has improved matters greatly.
But I'm not a professional cyclist and I still get problems.
There are other things you can do.
The type of saddle you have can make a difference. A small study in 2002 in men showed that cycling with different saddles, more importantly one that was wide enough to prevent compression of the arteries of the seat area (the perineum) was key.
[Schwarzer U, Sommer F, Klotz T et al. Cycling and penile oxygen pressure: the type of saddle matters. Eur Urol 2002;41:139-43.]
Your posture on the bike is also important; a more horizontal sitting posture ie the more stretched out on the bike you are, is associated with more pressure on the genital area and hence reduction of blood flow.   A cyclist riding with her body at 30 degrees to the horizontal can experience as much as 70% reduction in blood supply to the genitals. Standing up on the pedals or alternatively cycling on a reclining bike showed resolution of the pressure and improvement in blood supply to the area.
[http://www.womenscycling.ca/blog/health-tips/cycling-genital-problems/]
[Sommer F, Goldstein I, Korda JB. Bicycle riding and erectile dysfunction: a review. J Sex Med 2010;7:2346-58.]
It's also important to use chamois cream and not wear underwear under cycling shorts as they prevent the technical cycling fabrics from working and trap a layer of moisture next to the skin.
It's also important to remove sweaty cycling shorts after cycling. They can increase friction on the skin and are a breeding ground for bacteria. Wearing loose clothing after can aid drying and airflow.
Dermatological issues
Pubic hair is protective to the genital area. It prevents against friction and helps sweat evaporate away from the skin in the area.   Waxing, shaving and depilatory creams can damage the top layers of skin and increase the risk of developing ingrowing hairs and infections of the hair follicles.
Gentle washing of the area using soap substitutes (British Cycling recommend Dermol 500) and rinsing well with plain water are recommended. Scrubbing, using exfoliators, sponges and flannels are not recommended as they will irritate the top layers of the skin. When drying the area, pat dry and don't rub. Use of an unperfumed moisturizer can also help improve skin barrier function.
And lastly…
Don't ignore any problems if they should occur. Check yourself regularly and get your bike checked at your local bike shop to ensure that it is correctly fit to your body size or adjusted accordingly.
Happy cycling!
Yours,
Sandy
Dr Sandy Flann, Consultant Dermatologist