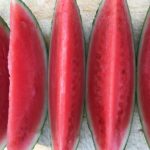 I'm lucky that we are a family that generally likes our greens though sometimes it can still be a challenging process and sometimes I'm faced with a full-on dinner table revolt!
There is now evidence that certain vegetables eaten in the diet can also provide protection against sun damage.
What?
The May edition of the British Medical Journal published a paper showing that oral supplementation with lycopene and lutein could protect against ultraviolet radiation induced skin damage.
[Grether-Beck S, Marini A, Jaenicke T et al. Molecular evidence that oral supplementation with lycopene or lutein protects human skin against ultraviolet radiation: results from a double-blinded, placebo-controlled crossover study. Br J Dermatol 2017;176:1231-40.]
What are lycopene and lutein?
Lycopene is a red carotenoid found in certain red fruits and vegetables such as tomatoes, watermelon and papaya and also certain non-red vegetables such as asparagus and parsley. They are not, however, found in strawberries and cherries.
Lutein is a yellow carotenoid found in leafy green vegetables such as spinach, kale and yellow carrots. It can also be found in egg yolks and chicken skin and fat.
How did they conduct the study?
The study was a fairly good quality study. It was a placebo-controlled, double-blinded, randomized, crossover study with two active treatments (the lycopene, in a tomato nutrient complex or TNC) or lutein.   The group sizes were relatively small, with only about 30 participants in each group.
The lycopene and lutein were administered as capsules. The lycopene-rich TNC capsules contained other tomato phytonutrients such as phytoene, phytofluene, tocopherols and phytosterols. The placebo (or non-treatment) capsules contained soybean oil.
Participants underwent a washout phase and were then given one treatment (lycopene or lutein) and then the second treatment (lutein or lycopene) with a second washout phase in the middle. At the beginning of the study and at the end of each treatment phase, participants were exposed to medicinal light rays (UVB/A) using a solar stimulator and also to another type of medicinal light ray called UVA1.
Blood samples were taken at the end of both washout phases and at the end of both treatment phases. Skin biopsies were also taken at the end of the first washout and at the end of both treatment phases from irradiated and non-irradiated skin.
What were they looking for?
The blood samples were looking for lycopene and lutein content in the blood. The skin biopsies were to see if the lycopene and/or lutein prevented UV radiation-induced gene expression in the skin.
What did they find?
The study did show that ingesting these capsules did increase blood levels of lycopene and lutein compared to placebo. Ultraviolet radiation did increase the expression of certain genes in the skin. These genes are involved in the pathways that contribute to photoaging, photocarcinogenesis (skin cancers due to sunlight) and photodermatoses (skin rashes due to sunlight such as polymorphic light eruption).
Ingestion of lycopene and lutein significantly inhibited UV radiation-induced expression of these genes in the skin.
How do lycopene and lutein work?
We are not absolutely sure. The authors postulate that it is most probably due to an antioxidant effect.
So do I have to take capsules of lycopene and lutein to get this protective effect?
These are naturally occurring carotenoids so you should be able to get these through your diet. The authors do go on to recommend that one cup of chopped kale (130g) and a serving of tomato juice (242g) per day would be enough to give you 20mg lutein and 20mg of lycopene, which is double or quadruple the doses used in the study.
So even more reasons to eat your fruit and veg!
Yours sincerely,
Sandy
Dr Sandy Flann, Consultant Dermatologist.