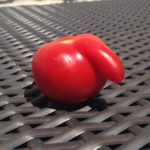 Rosacea can be a real pain; sensitive facial skin, redness, easy flushing and then spots. If you're really unlucky then you can also start to get textural changes to the skin, what dermatologists call rhinophyma.
Then the other pain is that we have no cure for the condition.   There are just creams and tablets that suppress it for a while but the condition tends to relapse some time after stopping them. By and large, most people have been treated with anti-rosacea creams by the time they see a dermatologist and so we tend to put patients on tablets, which are long term low dose antibiotics.
There is a current trend towards veering away from long term low dose antibiotics. Worries over antibiotic resistance are omnipresent and real.
[World Health Organization. Global action plan on antimicrobial resistance. http://www.who.int/ drugresistance/global_action_plan/en/. ]
Ways of reducing the use of antibiotics in the treatment of non-infectious diseases are needed.
So what's new?
A new cream to treat rosacea was approved by the US Food and Drug Administration in December 2014 and across Europe in 2015.
[FDA (2014) SOOLANTRA (ivermectin) cream, 1 % for topical use. Available at:
http://www.accessdata.fda.gov/drugsatfda_docs/label/2014/206255lbl. Pdf ]
[Stein L, Kircik L, Fowler J, et al. Efficacy and safety of ivermectin 1% cream in treatment of 
 papulopustular rosacea: results of two randomized, double-blind, vehicle-controlled pivotal studies. J Drugs Dermatol. 2014;13(3):316–23. ]
[Taieb A, Ortonne JP, Ruzicka T, et al. Ivermectin Phase III study group. Superiority of ivermectin 1% cream over metronidazole 0 75% cream in treating inflammatory lesions of rosacea: a randomized, investigator-blinded trial. Br J Dermatol. 2015;172(4):1103–10. ]
What is Soolantra?
Soolantra is a cream which contains an agent called ivermectin. Oral ivermectin is an anti-parasitic agent which has been around since the 1970's. It is used in both human and veterinary medicine to treat parasitic infections.
[Burg RW, Miller BM, Baker EE, Birnbaum J, Currie SA, Hartman R, et al. Avermectins, new family of potent anthelmintic agents: producing organism and fermentation. Antimicrob Agents Chemother. 1979;15(3):361–7.]
Why are we using anti-parasitic creams in rosacea?
Believe it or not, there is a link between rosacea and a mite called Demodex which lives in the skin.
[Forton F, Seys B. Density of Demodex folliculorum in rosacea: a case-control study using standardized 
 skin-surface biopsy. Br J Dermatol. 1993;128(6):650–9.]
[Chen W, Plewig G. Are Demodex mites principal, conspirator, accomplice, witness or bystander in the cause of rosacea? Am J Clin Dermatol. 2015;16(2):67–72. doi:10.1007/s40257-015- 0115-y.]
What does the mite do?
We are not exactly sure. It is thought that there is an heightened inflammatory response in the skin which plays a part in the signs and symptoms of rosacea.
But I've been advised to cut out alcohol, hot drinks and spicy foods?
That advice still stands. It is well recognized that there are environmental triggers such as alcohol, hot drinks and spicy foods aswell as sun exposure, temperature changes and heavy exercise which make rosacea worse.
The skin of rosacea patients is more sensitive and also has an ability to trigger inflammation in the affected skin. Longstanding inflammation results in dilatation of the vessels in the face and this allows the fluid in the vessels to leak out. This then causes tissue swelling and further inflammation.
So what does a mite and an antiparasitic cream have to do with all this?
Oral ivermectin has been shown to reduce the levels of mites such as Demodex in the skin.
[Salem DA, El-Shazly A, Nabih N, El-Bayoumy Y, Saleh S. Evaluation of the efficacy of oral ivermectin in comparison with ivermectin-metronidazole combined therapy in the treatment of ocular and skin lesions of Demodex folliculorum. Int J Infect Dis. 2013;17(5):e343–7. doi:10.1016/j.ijid.2012.11.022.]
It has also been shown to reduce inflammation.
[YanS,CiX,ChenN,ChenC,LiX,ChuX,etal. Anti-inflammatory effects of ivermectin in mouse model of allergic asthma. Inflamm Res. 2011; 60(6):589–96. doi:10.1007/s00011-011-0307-8.]
[ZhangX,SongY,CiX,AnN,JuY,LiH,etal. Ivermectin inhibits LPS-induced production of inflammatory cytokines and improves LPS-induced survival in mice. Inflamm Res. 2008; 57(11):524–9. doi:10.1007/s00011-008-8007-8.]
However, its exact mechanism of action is still not fully understood.
But it works in rosacea?
Yes, it works very well in moderate papulopustular rosacea, a type of rosacea in which there is facial redness together with spots.
[Stein Gold L, Kircik L, Fowler J, Tan J, Draelos Z, Fleischer A, et al. Efficacy and safety of ivermectin 1% cream in treatment of papulopustular rosacea: results of two randomized, double-blind, vehicle-controlled pivotal studies. J Drugs Dermatol. 2014;13(3):316–23.]
[Raedler LA. Soolantra (Ivermectin) 1% cream: a novel, antibiotic-free agent approved for the treatment of patients with rosacea. Am Health Drug Benefits. 2015;8(Spec Feature):122–5]
How does it compare to existing anti-rosacea creams?
It definitely seems to be far superior compared to topical metronidazole cream and topical azelaic acid.
[Siddiqui K, Stein Gold L, Gill J. The efficacy, safety, and tolerability of ivermectin compared with current topical treatments for the inflammatory lesions of rosacea: a network meta-analysis. Open Access DOI 10.1186/s40064-016-2819-8]
And is it safe?
Yes. Some burning, stinging, redness and itching are reported in some patients but to no greater degree or maybe to a lesser degree compared to other anti-rosacea creams. Indeed rosacea patients report a better quality of life after treatment with the ivermectin cream than with other anti-rosacea creams.
[Schaller M, Dirschka T, Kemény L et al. Superior Efficacy with Ivermectin 1% cream compared to Metronidazole 0.75% cream contributes to a Better Quality of Life in Patients with Papulopustular Rosacea: A Subanalysis of the Randomized, Investigator-Blinded ATTRACT Study. Dermatol Ther (Heidelb) 2016; 6:427-436.]
And in the long term?
With current data, it seems as if topical ivermectin cream is safe for up to 52 weeks but clearly studies of a longer duration are needed.
[Stein GL, Kircik L, Fowler J, Jackson JM, Tan J et al (2014) Long-term safety of ivermectin 1 % cream vs azelaic acid 15 % gel in treating in ammatory lesions of rosacea: results of two 40-week controlled, investigator-blinded trials. J Drugs Dermatol 13(11):1380–1386
]
So if you have moderately severe rosacea with spots and don't fancy a protracted course of antibiotics, at last you have an option that really does seem to work!
Yours sincerely,
Sandy
Dr Sandy Flann, Consultant Dermatologist