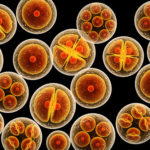 I don't think I'm alone in finding the whole festive season somewhat stressful. Don't get me wrong, I do enjoy it but there's also a huge sense of relief when it is all over. To make it all worse, when I get stressed, I develop spots, which at this age is just frankly annoying. But then, recent research has shown that acne sufferers may be having the last laugh – quite literally.
Why's that?
Scientists at King's College London published research in September 2016 showing that the cells of acne sufferers may be better protected from ageing.
[Ribero S, Sanna M, Visconti A et al. Acne and telomere length. A new spectrum between senescence and apoptosis pathways. J Invest Dermatol. 2016. pii: S0022-202X(16)32456-3. doi: 10.1016/j.jid.2016.09.014. (Epub ahead of print)]
How?
Well, dermatologists have recognised for some time that the skin of acne sufferers tends to age better than those that don't or have never had acne. There are less wrinkles and the skin appears less thin. It was generally thought to be due to more grease (or sebum) production in the skin amongst other factors. Patients with acne have increased sebum production which is thought to be contributory to the acne together with other factors such as hormones and stress.
So it's due to increased grease production?
No, not totally. The study by Ribero et al looked at something called leucocyte telomere length (LTL) in acne patients and those without acne.
What is leucocyte telomere length?
Leucocytes are white cells found in all of us. Telomeres are short segments of DNA found at the end of chromosomes. They guard against loss of genetic material whenever a cell replicates. However, repeated cell replication does eventually lead to shortening of LTL and at a certain critical length, this signals cell death. Therefore LTL has been shown to be predictive of biological ageing and is linked with telomere length in other cells in the body.
What did the study show?
The study looked at 1205 twin volunteers from the TwinsUK cohort study of whom 293 had experienced acne in their lifetimes. Acne patients were found to have longer LTL than those who had not had acne.
One of the genes involved in protecting telomere length was also nominally associated with acne in a replication sample of 1893 patients with severe acne from the UK Acne Genetic study.
The group also looked at possible gene pathways linked to acne. One gene pathway called the p53 pathway was found to be up-regulated in the skin of acne patients. The p53 pathway regulates programmed cell death (a normal part of a cell's life cycle) and is generally viewed as the protector of the genome.
Where do we go from here?
It is still early days. This study just looked at female twins and was entirely dependent on self-reporting of acne via a questionnaire. It does not identify causality either, ie that acne will lead to less ageing or increased survival.
Nevertheless, the above study probably tells us what we know already in that our genes tell us whether we will age well or badly, to a degree, though there are things that we do to ourselves that can also influence that eg smoking and sun exposure.
Yours,
Sandy
Dr Sandy Flann, Consultant Dermatologist.