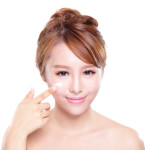 Last month's edition of the journal Clinical and Experimental Dermatology included a study looking at the active ingredients in internationally available skin lightening products in South Africa.
[Maneli MH, Wiesner L, Tinguely C et al. Combinations of potent topical steroids, mercury and hydroquinone are common in internationally manufactured skin-lightening products: a spectroscopic study. Clin Exp Dermatol 2016; 41:196-201.]
Skin lightening products are rife in African and Asian countries. A recent trip of mine to South East Asia confirms this. In these countries, the desire to have white skin is everywhere with skin lightening products making up to 60% of sales of the Asian skincare market.
[Leong S, "Who's the fairest of them all? Television ads for skin- whitening cosmetics in Hong Kong," Asian Ethnicity, 2006; 7:167–181.]
Why is this?
The desire to have white skin can be traced back to ancient times. The Chinese, for example thought that taking a small amount of pearl powder in hot water everyday could lighten one's complexion. In many Asian countries eg Korea, Japan, India and Myanmar, a light skin tone is associated with beauty.
[Rusmadi SZ, Syed Ismal SN, Praveena SM. Preliminary study on the Skin Lightening Practice and Health Symptoms among Female Students in Malaysia. J Environ Public Health; 2015: http://dx.doi.org/10.1155/2015/591790 .]
That is so different to the West!
That is very true. There is a marked difference in the West where a tan all year round is the aspiration.
There have been several suggestions as to why there is this difference. One suggestion is that, in Asia and Africa, it is probably a legacy left over from colonial times when 'the white man' was the ruler and the dark natives were the ruled. Another may simply be that darker complexions were associated with manual, outdoor work and fairer complexions were associated with those of higher social standing who did not need to work or had more indoor, office-based work.
In the West, it is also an indicator of wealth. A tan in the winter months can intimate the financial means and ability to travel to sunny climes.
What is in skin lightening creams?
Skin lightening creams may also be marketed as fading creams, skin brightening creams or creams to even skin tone. They can contain any variety of ingredients such as corticosteroids, hydroquinone, mercury and tretinoin.
So what is the problem?
All of these agents, bar mercury, can be used by some dermatologists to treat certain conditions where there is a problem with hyperpigmentation eg melasma. However, medical supervision is required for the use of these agents as they can all cause serious side-effects. Because of this, they have all been banned by the EU Cosmetic Regulation 1223/2009 which requires that all cosmetic products should be safe.
[http://eur-lex.europa.eu/legal-content/EN/TXT/HTML/?uri=CELEX:02009R1223-20150416&from=EN]
However, despite this ban, these products can easily be found within the EU.
[Desmedt B, Van Hoeck E, Rogiers V et al. Characterization of suspected illegal skin whitening cosmetics. J Pharm Biomed Anal 2014; 90: 85–91]
[Maneli MH, Wiesner L, Tinguely C et al. Combinations of potent topical steroids, mercury and hydroquinone are common in internationally manufactured skin-lightening products: a spectroscopic study. Clin Exp Dermatol 2016; 41:196-201.]
What kind of side effects can you get?
Corticosteroids
Side effects of long term corticosteroid use are thinning of the skin, steroid-induced acne, fungal and bacterial infection and stretch marks. Addiction to corticosteroids often develops as corticosteroids cause a reversible depigmentation only and long term use over large areas of skin can also cause the body's own steroid production to switch off with very serious resultant medical problems.
Hydroquinone
Hydroquinone mimics a chemical which is involved in making melanin (the pigment within the skin). It can cause an irritant or allergic eczema, nail discoloration, neuropathy (a problem with the nerves), a condition called fish odour syndrome (where body odour starts to smell like rotting fish and similar unpleasant things!) and most importantly a condition called ochronosis (where the skin develops blue-black discoloration).
Hydroquinone can cause skin depigmentation but this is reversible so consumers have to continuously use it to maintain the skin depigmentation and this increases the risk of side-effects.
[Desmedt B, Courselle P, De Beer JO et al. Overview of skin whitening agents with an insight into the illegal cosmetic market in Europe. J Eur Acad Dermatol Venereol 2016; doi: 10.1111/jdv.13595.]
Mercury
Mercury is a heavy metal.   It is a poison and can damage any number of organs. The commonest organs damaged by mercury in skin products are the kidneys.
[Mercury in Skin lightening products. World Health Organisation – Preventing Disease through Healthy Environments. http://www.who.int/ipcs/assessment/public_health/mercury_flyer.pdf]
Tretinoin
Tretinoin works by increasing skin cell turnover and disperses the melanin in the top layer of the skin resulting in a lighter skin tone. It commonly causes redness and scaling and increases the risk of sunburn. More importantly, it can cause damage to an unborn baby so in Europe, it is considered unsafe for use in women of childbearing age unless there is medical supervision.
What did the recent study show?
It was a small study investigating the active ingredients in 29 products purchased from informal vendors and over the counter.   It showed that a third of the products were from Europe and 22 of the 29 products contained either corticosteroids, mercury, and hydroquinone either on their own or in combination. Disturbingly, the labelling on the products was grossly inaccurate.
What can be done about this?
I think until there is a tightening up of import regulations and industry compliance there is little the consumer can do other than avoid these products completely.
Regards,
Sandy
Dr Sandy Flann, Consultant Dermatologist