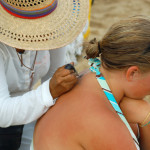 In an August edition of the British Medical journal, it was reported that there has been an increase in the uptake of temporary tattoos.
[BMJ 2015;351:h4519]
Also, in one of the October issues of the British Medical Journal was a picture of 'A pretty rash.' This was a case of a 24-year old lady who had had a temporary tattoo on her left shoulder in the form of a trailing flower two weeks previously. A week or so later she had developed an itchy raised rash in the exact place of the tattoo.
[BMJ 2015;351:h5432]
So what?
Well, temporary tattoos are popular in children. They are advertised and sold as 'henna' tattoos and hence, temporary and natural. The henna that they purport to use is indeed a natural product. It is derived from the mashed up dried leaves of the Egyption privet tree, the dried product being mixed with water, lemon juice or tea to produce the paste which is then painted onto the skin. The colour holds for a few days and then wears away.
That's okay then, isn't it?
The 'henna' used in temporary tattoos is not the tradional henna used in India and Africa for traditional cultural practices. It is black henna.
That's just henna that's blacker then!
That's true but the thing that is added to make it blacker is called paraphenylenediamine (PPD). PPD is found in hair dyes, which is permitted but it is illegal to use it in skin contact products such as temporary tattoos.
Why is that?
PPD is a potent sensitiser and is well renown for causing severe allergic reactions. Any of you who may dye your hair will know that your hairdresser should do a little test patch on your skin checking to see if you are allergic before dying all your hair.
Therefore, PPD applied directly to the skin as in temporary tattoos can cause a severe allergic skin reaction at the site of the tattoo and also can sensitise the child (usually) to anything that contains PPD for the rest of their lives.
But our kids only get their tattoos when they are on holiday…
That is often the case. A child I had seen in the paediatric dermatology clinic in the summer had had a black henna tattoo whilst on the family summer holiday at a beach parlour in Spain. I saw her with a widespread and spreading oozy eczema with significant facial swelling together with swelling and eczema of the arm where the tattoo had been applied. This would have been unusual for the first tattoo but on further questioning, her father admitted that this was the second tattoo the child had had.
I don't understand that! Why does the severe reaction happen on the second exposure?
That is because allergy is mediated by immune cells in the body. The first exposure is needed to sensitise or 'prime' the immune cells and hence the first exposure is usually limited to the site of exposure only, like the 24-year old lady mentioned at the beginning of the blog. On the second exposure, the immune cells are ready and primed and so the second exposure results in the more widespread reaction with severe and significant swelling and eczema and oozing.
The future problem…
A survey performed by the British Skin Foundation at the Annual British Association of Dermatologists meeting in Manchester in July 2015 revealed that 4 in 10 dermatologists (244 respondents) had seen reactions to black henna temporary tattoos. 1 in 20 of those dermatologists reported that most of the reactions were in children aged under 16 years. Half of these tattoos were done outside of Europe (where the legislation is less clear) but over a quarter (27%) were done in the UK. Two-thirds also reported an increase in reactions to hair dyes and many of these had previously had a black henna tattoo.
[BMJ 2015;351:h4519]
Only hair dyes need to be avoided then?
PPD is in hair dyes, usually the dark permanent hair dyes. It is, however also contained in printer ink and dark textile dyes. Hence these also need to be avoided lifelong.
And treatments for the reactions?
Localised reactions can be treated with topical steroid creams but more widespread generalised reactions may need a prolonged course of oral steroids. Some reactions can scar and in some, keloid scars may also result.   Therefore, avoidance is key.
Regards,
Sandy
Dr Sandy Flann, Consultant dermatologist