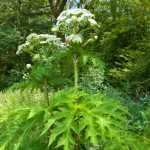 At the time of writing this blog, the family has just returned from its first ever camping trip (outside of the back garden!). On one of the obligatory dog walks by a river near the campsite, we noticed we were surrounded by triffid-like cow parsley, towering over us to over two metres in height. My eldest made the remark, "Have you seen the giant cow parsley?" and as we are not of horticultural stuff, we all just readily agreed and moved on.
The dermatologist in me had to spout a little bit about phytophotodermatitis, a reaction between a plant allergen (phyto-), the sun (photo-) and the skin (dermatitis) whilst the rest of the family just looked at me in disbelief but thankfully, everyone listened to me for once and no harm came to anyone.
Upon our return, I noted that several national newspapers had articles on the plant, more accurately called Giant Hogweed, causing terrible blisters and swelling in affected parts of the body in various young children and dogs that had been in contact with the plant.
[http://www.theguardian.com/lifeandstyle/gardening-blog/2015/jul/15/giant-hogweed-digging-deeper-into-the-history-of-a-killer-weed]
[http://news.sky.com/story/1520519/i-was-in-agony-call-for-giant-hogweed-action]
[http://www.dailymail.co.uk/news/article-3165769/Ellie-Great-Dane-left-horrific-burns-sniffing-toxic-giant-hogweed-plant.html]
So is it true that it is an allergy to the plant?
No, it isn't an allergy at all. The Giant Hogweed belongs to the Apiaceae family or plants (or Umbelliferae). Also in this family are more common plants we know such as cow parsley, carrot, celery, dill, fennel, coriander, parsley and parsnip and also the highly poisonous hemlocks.
Giant hogweed and some of the other plants in the Umbelliferae family such as cow parsley, carrot, celery, parsley and wild parsnip contain chemicals called psoralens (or furocoumarins) and it is this chemical which causes the skin reaction.
How?
The psoralens are lipid soluble and so can absorb into the skin easily. When the psoralens on and in the skin come into contact with the UVA rays in sunlight, a chemical reaction takes place. The severity of the reaction depends on the amount of psoralen on the skin, the amount of sun exposure (worse with mid-day sun) and high humidity.
What types of reaction are there?
Two types of reaction are described, an oxygen-independent one where the UV-activated psoralen binds to RNA and nuclear DNA (the stuff in the middle of cells that basically makes us what we are); and an oxygen-dependent one where the UV-activated psoralen causes cell membrane damage, swelling and death.
[http://dermnetnz.org/dermatitis/plants/giant-hogweed.html]
Therefore, the reaction can happen to anyone, it just requires exposure to the plant and enough sunlight, whereas a true allergic reaction requires an episode of primary contact to develop sensitized immune cells in certain predisposed individuals and then a second exposure to develop the allergic reaction.
What do you see on the skin?
Well, swelling (oedema), pain and blistering are pretty much universal in all who are affected but generally only on the areas of skin that have come into contact with the plant and sun.  Sometimes one can see linear inflamed streaks that tell you this was from a plant.
I've heard that figs can also cause a problem.
That's true. Figs are not part of the Umbelliferae family but the Moraceae family but they also contain furocoumarins and can therefore also cause a phytophotodermatitis.
Limes are another fruit that can cause a phytophotodermatitis but this is similar to what we call a berloque dermatitis – a contact dermatitis to perfumes containing bergapten (also a form of psoralen).
So avoidance is the key?
Exactly. The Royal Horticultural Society have issued advice as the plant clearly is of public health concern. The Wildlife and Countryside Act 1981 (as amended) Schedule 9, Section 14 lists it as an offence to grow giant hogweed in England and Wales (similar legislation appears in Scotland and Northern Ireland) and occupiers of giant hogweed infested ground can be required to remove it or face penalties. Their website clearly outlines how to rid oneself of the plant on a small scale, but wearing protective clothing and gloves and washing any exposed skin as soon as possible are key. Large scale removal is best left to a professional.
[https://www.rhs.org.uk/advice/profile?PID=458]
If you want to do your bit to help prevent the spread of the plant, the government's Environmental Agency has a plant tracker app which allows you to report the location of the plant.
[http://planttracker.naturelocator.org/]
Kind regards,
Sandy
Dr Sandy Flann, Consultant Dermatologist