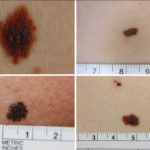 At the time of writing this blog, we're having the first lovely bright, clear and sunny days of Spring and it feels absolutely wonderful after all the long, dark days of winter.
Traditionally, this time of year heralds the beginning of busy days for dermatologists. This is because everyone is thinking about summer holidays, existing moles are under scrutiny and new moles are being questioned.
In the past few months, I have been asked the question "Do you do mole mapping?" on more than a few occasions. The hesitant answer is "Yes," and this is because the term 'mole mapping' means different things, I think, to different people.
What is mole mapping?
The term 'mole mapping' in commercial terms is the use of an electronic piece of equipment manned by a technician or nurse which can visualize pigmented lesions, capture the image and feed it to a computerised programme. This programme then interprets the image using various parameters and then delivers a result which basically indicates whether a lesion is benign, sinister or needs further evaluation by a physician.
Such systems are becoming increasingly common and form the basis of many teledermatology services in place throughout the country.
But that's good isn't it?
In theory, it sounds like a quick, easy and relatively inexpensive way of getting all your moles checked. In clinical practice, dermatologists often find that the 'mole mapping' adds nothing to the consultation other than the patient bringing sheaths of paper with colour pictures of all their moles and a request for a particular mole to be reassessed and excised.
What's wrong with that?
The basis of all good dermatology practice (as with all medical practice) hinges on the history from the patient ie what the patient tells us about their condition or in this case a particular mole. A good history is key and it is upon that history that the examination and resultant diagnosis or decision plan is made. Seeing a patient with no history but an 'X' marked on the skin next to the lesion in question is not helpful at all.
But there are so many mole mapping services available!
That is true. At Orpington Hospital, we trialled the use of a 'mole mapping' service several years ago to see if it could relieve the burden of urgent mole checks we get every summer. We soon discontinued its use.
Why?
There has been a body of literature showing that the 'mole mapping' system which is commonly used, the so-called SIAscope (spectrophotometric intracutaneous analysis) system had a low diagnostic accuracy for melanoma and our clinical experience reflected this.
[Terstappen K, Suurküla M, Ericson MB et al. Poor correlation between spectrophotometric intracutaneous analysis and histopathology in melanoma and nonmelanoma lesions. J Biomed Opt. 2013;18(6):061223.]
Also, in GP practice or primary care, a doctor performing best practice guidelines was more accurate than the SIAscope model.
[Walter FM, Morris HC, Humphrys E et al. Effect of adding a diagnostic aid to best practice to manage suspicious pigmented lesions in primary care: randomized controlled trial. BMJ 2012;345:e4110.]
So what do dermatologists do? You say you do 'mole mapping.'
Dermatology is a medical speciality. As aforementioned, the most crucial part in reaching a diagnosis is taking a history from a patient. In this way, we get an appreciation of whether a particular lesion has changed and if so, over what period of time.
A full skin examination is also particularly important. Patients often come with one thing and there is often something else lurking somewhere hidden such as on the back or behind the ear (Have you ever tried looking at the patch of skin behind your ears in a mirror? Impossible!)
Dermatologists quite commonly use an instrument called a dermatoscope to aid our examination and evaluation of pigmented and non-pigmented lesions. Studies have shown that a clinical examination with dermascopic examination by an individual trained in using a dermatoscope is invaluable in skin cancer diagnosis.
[Hacioglu S, Saricaoglu H, Baskan EB et al. The value of spectrophotometric intracutaneous analysis in the noninvasive diagnosis of nonmelanoma skin cancers. Clin Exp Dermatol 2013;38(5):464-9.]
[Sgouros D, Lallas A, Julian Y et al. Assessment of SIAscopy in the triage of suspicious skin tumours. Skin Res Technol 2014; 20(4): 440-4.]
[Biyik Ozkaya D, Onsun N, Su O et al. Pitfalls of an automated dermoscopic analysis system in the differential diagnosis of melanocytic lesions. Acta Dermatovenereol Croat 2014; 22(4): 278-83.]
So a dermatologist's take on 'mole mapping' would involve your dermatologist inspecting all your moles both with the naked eye and with their dermatoscope. Years of looking at skin and only skin will have taught your dermatologist to tell you what you can be reassured about, what can be photographed and monitored, what needs to be removed routinely and unfortunately, in some cases what needs to be removed urgently.
Kind regards,
Sandy
Dr Sandy Flann, Consultant dermatologist.