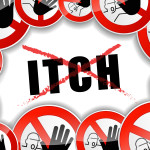 You would perhaps be not surprised to know that dermatologists see a lot of itchy patients. For that matter, I find that most people actively start itching when they hear that I am a dermatologist!
You may, however, be surprised to find out that not all itching is accompanied by a skin rash and indeed, if I see a skin rash when examining an itchy patient, I tend to breathe a sigh of relief. That's because, to put it simply, treating an itchy skin rash, from whatever cause is a lot easier than treating itchy skin with no accompanying skin rash.
What can you do if there is no skin rash?
There are some medical conditions which cause itchy skin without there being a primary dermatological condition such as eczema or lichen planus. These medical conditions can include conditions such as iron-deficiency anaemia or hypothyroidism, to name a couple.
Therefore, we often request blood tests to exclude these conditions, as they can be easily treatable once diagnosed.
What if the tests are negative?
Well, then things get much harder to treat. Dry skin is itchy and if the skin were found to be dry, we would recommend avoiding soaps, shower gels and bubble baths and use emollients instead (such as aqueous cream or emulsifying ointment, though there are many others available). A regular moisturizer would also be recommended.
Are there no other treatments?
There is a cream called Dermacool® which contains menthol in varying concentrations from 0.5% (paediatric dose) up to 5%. It can be highly effective if used on an as-and-when basis. We recommend applying it to the skin whenever the urge to itch overcomes you, instead of scratching.
We also often recommend a course of medicinal light treatment (narrowband UVB or TL01). Ultraviolet rays have an immunosuppressive effect on the skin and light treatment can be highly effective in some. Of course, light treatment is not for everyone. There may be medical reasons that render it unsuitable, such as a history of light sensitivity, multiple skin cancers or claustrophobia. For others, work commitments may prevent them from making the multiple trips to a dermatology department that would be required to complete the course.
Why can't I just go and have a session on a sunbed then?
Having a session on a sunbed is definitely NOT recommended. They are classed as Class I carcinogens and vastly increase your chance of developing melanoma and other skin cancers.
Doesn't light treatment do that too?
Yes, we do counsel people about the increased risk of skin cancer when using light treatment. However, the amount of time a person is in the light chamber is often in the order of seconds and the amount of light given is tightly regulated and monitored by a dermatology nurse especially trained in light treatment. It is often the time travelling to and from the dermatology department that takes up the time, rather than the time spent in the light chamber. Also, the wavelength of UVB given in medicinal light rays is very specific, namely between 311-312nm, whereas sunbeds emit all sorts of wavelengths of light, namely UV-A and UV-B.
What about antihistamines?
Yes, antihistamines play a role. Non-sedative antihistamines may help with daytime itching, eg cetirizine. Most, if not all patients with pruritus (itchy skin) complain that the worst time of day for itching is the evening or bedtime. We think this is because warming of the skin under the bedclothes when one is trying to empty one's mind, makes the itching more pronounced. In that case, and especially if sleep is disturbed with itching a more sedative antihistamine may be required, eg hydroxyzine.
Is there nothing else that can be done?
The bottom line of all the treatments is to not scratch the skin at all. This is often easier said than done! We often spout lyrical about patting the skin instead of scratching it if it is itchy while the patient looks at us as if we are crazy.
However, not scratching the skin has its benefits. Firstly, scratching the skin often breaks the skin surface forming excoriations. These can get infected. Secondly, persistent rubbing of the skin makes it thicker in these persistently rubbed places. Sometimes we see things called picker's nodules or a phenomenon called lichen simplex chronicus. These happen because trying to break the 'itch-scratch cycle' is very hard.
Itching and the nervous system
Itch is mediated via neural (or nerve) pathways, pathways that link the nerves in the brain, spinal cord and nerves around the rest of the body (peripheral nervous system) and those in the skin.
There are 2 types of itch-sensitive pathways and research has shown that the itch pathways overlap with those that deal with pain in the brain.
[http://www.dermnetnz.org/systemic/itch.html]
[Jeffry J, Kim S, Chen ZF. Itch signaling in the nervous system. Physiology 2011; 26: 286-292.]
Research has recently discovered new mechanisms by which itch could possibly be treated because, as you can appreciate, there are not many effective treatment options for itch in current medicine.
[Sukhtankar D, Mei-Chuan K. Neuromedin B Receptors in Regulating Itch Scratching Behaviour in the Spinal Cord of Mice. PLoS One 2013; 8: e67422.]
The science behind the 'itch-scratch' cycle
The Centre for the Study of Itch, Washington University has also recently published research confirming why scratching can paradoxically make you more itchy.
[http://csi.wustl.edu]
As previously discussed, scratching and pain are dealt with by overlapping neural pathways. It is quite conceivable that the purpose of scratching is to produce pain and the nerves then carry the pain sensation to the spinal cord and brain rather than the itch signal. The pain sensation then causes serotonin, the 'happy' neurotransmitter to be released by the brain. The serotonin then activates the nerve cells that control itch intensity in the spinal cord, making the itch much worse.
The team in Washington suggest that disrupting the interaction between serotonin and the cells that relay itch signals to the brain may be a possible treatment target in the future.
So hears to hoping for more effective, targeted therapeutic options for chronically itchy patients.
Regards,
Sandy
Dr Sandy Flann, Consultant Dermatologist.