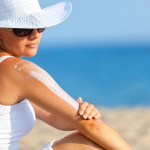 The summer holidays are almost upon and we all can't wait to feel that heat and sun upon our skin. Maybe some of us have been lucky enough to have been somewhere warm and sunny already!
However, we are clearly not being safe enough in the sun as recently reported data has shown.
In April of this year, Cancer Research UK published new statistics to show that the rates of diagnosis of malignant melanoma are five times higher than in the 1970's.
[http://scienceblog.cancerresearchuk.org/2014/04/26/news-digest-skin-cancer-surge-nice-decisions-health-atlas-and-more/]
These statistics show that 13,000 people are diagnosed with malignant melanoma each year compared with 1,800 in the mid-1970's. That makes it 17 per 100,000 people in Great Britain per year compared with 3 per 100,000 in Great Britain in the mid-1970's.
Around 2,000 people die of malignant melanoma per year in Great Britain and it is now the 5th most common cancer.
[http://www.bbc.co.uk/news/health-27065916].
Why has this happened?
It's a travesty really. Public awareness of sun protection has never been better and the range of cosmetically acceptable, high factor, broad-spectrum sunscreens is increasing year-on-year.
Cancer Research UK attribute the rise to the boom in package holidays to Europe since the 1960's and also to the rise in sunbed use.
If you mention using a sunbed in a dermatology department, it is almost as if you had said a dirty word!
I was listening to London Capital radio just this week and the radio presenter was trying to get 2 people who had randomly met that morning hooked up on a date. The gentleman was described by the lady in question as possibly Mexican-looking. As it turned out, he wasn't of Mexican origin at all but he did confess to having just had a session on a sun bed!
So? I know plenty of people who use sunbeds. Are they really that bad?
I have written on the dangers of sunbed use before.
[http://sandyflann.com/dr-sandy-flanns-blog/the-dangers-of-sunbed-use]
Also, the World Health Organisation classify sunbeds as a Class 1 carcinogen, alongside tobacco smoke and asbestos.
The International Agency for Research on Cancer (IARC) confirmed in 2007 the increased risk of melanoma with sunbed use.
An article in the British Medical Journal in 2012 showed that there was a 1.8% increase in risk of melanoma with each additional session of sunbed use per year.
[Mathieu Boniol, Philippe Autier, Peter Boyle et al. Cutaneous melanoma attributable to sunbed use: systematic review and meta-analysis. BMJ 2012; 345: e4757.]
So we can't go on holiday or have a sunbed?
A dermatologist would NEVER recommend using a sunbed. However, of course you can go on holiday and enjoy the sun. However, it's important to be SAFE in the sun!
The standard advice is:
1)   Avoid the hot midday sun ie 11am to 3pm
2)   Avoidance of the sun is the best protection ie cover up in the sun, sit in the shade, wear a hat.
3)   Choose a high-factor broad spectrum sunscreen and DON'T drop the SpF as the holiday progresses. Apply liberally and frequently. You should not be coming back from a standard 2-week summer holiday with the same bottle you left with. A recommended minimum SpF is 30 in our department and try and get a 5-star UVA rated one too.
4)   Be vigilant with your skin, especially if you are fair-skinned (and burn easily) with red or fair hair, are moley, have a family history of skin cancer and have burnt more than several times in your life.
With that advice, you can still have a cracking holiday without all the worries of subsequent skin cancers or spending your latter years having all the skin cancers removed!
 Regards,
Sandy
Dr Sandy Flann, Consultant Dermatologist.