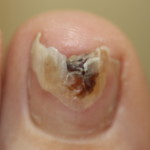 Fungal nail infections are very common. A lot of the population probably are unsuspecting sufferers to some degree. As dermatologists, we often see fungal nail infections that are referred to us as abnormal nails in a child or a possible melanoma of the nail in an adult. Diagnosis is therefore important.
Also fungal nail infections of fingernails (and toenails) can be cosmetically and socially embarrassing and they can also make it uncomfortable to walk or exercise. Patients with fungal nail infections may often have fungus growing on the skin of the feet or elsewhere on the body, which can cause problems. People suffering with diabetes, in particular, are more likely to suffer from fungal nail infections and fungal infections of the neighbouring skin can predispose to cellulitis and diabetic foot ulcers, so it is important to treat fungal infections especially in diabetic sufferers.
The dermatological term used for fungal nail infections is onychomycosis or tinea unguium. Fungal infection of the skin of the feet is called tinea pedis, of the body is called tinea corporis, of the hands is called tinea manuum, and of the scalp is called tinea capitis. I told you dermatologists like long Latin names!
Not all fungi cause fungal nail infections. The 3 types of fungi that cause skin disease in humans (and animals) are Microsporum, Epidermophyton and Tricophyton. The commonest species of fungus that causes fungal nail and skin infections in the UK is Tricophyton.
An Australian team in a March 2014 edition of the British Medical Journal wrote a Clinical Review on fungal nail infections.
[Eisman S, Sinclair R. Fungal nail infection: diagnosis and management. BMJ 2014; 348: 27-32.]
This paper states that 90% of cases of tinea unguium are related to Tricophyton rubrum species, followed by a complex of Tricophyton interdigitale or mentagrophytes. Tricophyton mentagrophytes is a species commonly found in small rodents such as pet rabbits or guinea pigs. In London and the South East, Tricophyton tonsurans is particularly prevalent especially in tinea capitis.
Many nail disorders can look like onychomycosis. Here is a list of a few such conditions:
Psoriasis
Eczema
Alopecia areata
Lichen planus
Trauma to the nail
Malignant melanoma
Yellow nail syndrome
Lamellar onychoschizia (lamellar splitting) – after repeated soaking of the hands/nails in water
Periungual squamous cell carcinoma – a type of skin cancer
Digital myxoid cyst.
What do fungal nail infections look like?
In children, they often present with flaky white lesions on the surface of the nail, so called superficial white onychomycosis.
Usually you get, in addition, crumbling of the nail plate, build up of debris under the nail plate at the distal end (end furthest from the cuticle), splitting or loss of the nail plate, or the nail plate may become yellowy-white.
Tinea pedis may be also present.
How do you diagnose onychomycosis?
It is important that samples of the nail plate and the debris under the nail plate be taken and sent to a laboratory for microscopy (looking through a microscope) and culture (an attempt to grow the fungus).
If your dermatologist has a microscope and a potassium hydroxide preparation to hand, the diagnosis can be instantaneous. Moreoften, the sample has to be sent to a mycology (ie fungal) laboratory where they will culture the species. This can take anything up to 6-8 weeks and the false negative rate (ie nothing grows yet there is still fungus present) can be high. Repeated sampling is important if the clinical suspicion is high.
How do you treat onychomycosis?
Topical treatments
In my experience, these only work in very superficial disease, ie superficial white onychomycosis but Eisman & Sinclair state that they can also be used if only 3-4 nails are affected, if there is distal nail plate involvement only, in children or if oral treatment is not possible.
Topical treatments include in the UK, namely nail lacquers which contain amorolfine (5%) which must be applied 1-2 per week for 6-12 months. The complete cure rate is 12.7% at 48 weeks.
[Paul C, Coustou D, Lahfa M, Bulai-Livideanu C, Doss N, Mokthar I, et al. A multicenter, randomized, open-label, controlled study comparing the efficacy, safety and cost-effectiveness of a sequential therapy with RV4104A ointment, ciclopiroxolamine cream and ciclopirox film-forming solution with amorolfine nail lacquer alone in dermatophytic onychomycosis. Dermatology 2013;227:157-64.]
Oral treatments
These are more effective than topical treatments but even then the reported cure rate is only about 30% and failure rate at least 25%.
[Hay RJ. The future of onychomycosis therapy may involve a combination of approaches. Br J Dermatol 2001;145(Suppl 60):3-8.]
These include drugs such as terbinafine, griseofulvin (the only licensed option in children), intraconazole and fluconazole.
Terbinafine is the preferred first-line treatment. Treatment is often for 6 weeks for fingernail infections and 12-16 weeks for toenail infections but sometimes longer treatment is required. We often give it to children too, even though it is unlicensed, as it more effective than griseofulvin.
Nail removal
Nail avulsion (complete removal) or debridement (partial removal) may be considered if only one nail is affected, may be the only option left in severe onychomycosis or if the nail is infected with a mould that is resistant to the oral treatments described above.
[Hay RJ & Moore MK. Superficial and cutaneous mycoses. In: Rook's Textbook of Dermatology. (Burns T, Breathnach S, Cox N, Griffiths C eds.), 7th edn. Oxford: Blackwell Science Ltd. 2004: 31.5-31.55.]
How do I know when treatment is successful?
Relapse is common, reportedly between 25-30% and after 3 months of treatment, most toenails will still look abnormal despite oral treatment. Eisman and Sinclair recommend that a scratch mark be made between the abnormal part of the nail and the normal part of the nail that is growing through. If the abnormal looking nail then starts to extend proximal (ie towards the cuticle) to the scratch line then this indicates that the infection is ongoing and needs further treatment.
Regards,
 Sandy
Dr Sandy Flann, Consultant Dermatologist.