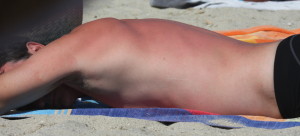 There are safe ways to tan, aren't there?
I had one patient recently who told me that she was 'safe' in the sun.  She applied a sunscreen of SpF 20 and sunbathed for 40 minutes on one side and then rotated for 40 minutes on the other side.  She liked the nice nutty brown colour her skin had become and was pleased that she could achieve a 'safe' tan without looking like, in her words, 'a leather bag.'
 As far as we are concerned, there is no 'safe' tan.  A tan is a protective mechanism of the pigment producing cells in the skin (melanocytes) to prevent ultraviolet induced damage to the cells in the skin.  A tan will only confer an SpF of around 2 and is indicative that some form of damage has occurred.  Repeated tanning leads to a build up of damage to the DNA within the skin cells and that is how skin cancers are made.
I always ask patients how many times they have been sunburnt in their lifetime.  I am no longer surprised that most people do not count pink skin after being out in the sun as sunburn (many often think you have to blister to fulfill the criteria for sunburn), though by definition pink skin is sunburn.  Again, the damage to the deeper levels of the skin will have already taken place.  The gentleman in the above picture is clearly sunburnt.
But I've just got 'old age skin' haven't I, doctor?
It's surprising how often we hear this comment and I suppose, in a way, it is true in that we tend to see sun damaged skin in older rather than younger people. 
 Why is this?
There are several reasons why this is so. 
 Firstly, older people have therefore been around a lot longer than say, children and young adults and therefore, the duration of time that their skin will have been exposed to the sun will probably be longer.
 Secondly, sun protection advice has only been around in the past 10 to 20 years and therefore any standard octogenarian will probably not have had any adequate sun protection during their childhood and early adulthood.  Indeed, the SunSmart campaign has only been in place in the UK since 2003 when the Department of Health commissioned an integrated skin cancer prevention programme through Cancer Research UK.
 Thirdly, most people of a certain generation will have spent some time abroad with the armed services, or given the rather affluent nature of this country, will have a holiday home abroad or spend a proportion of the year travelling abroad.
What signs are there on the skin that someone has got sun-damage?
 Before a skin cancer forms, however, there are a whole host of changes the skin will go through.
 What are these?
Freckles – we all know what these are.  They come and go with sun exposure.  They may look cute but to any dermatologist, they are a sign that that child has not had adequate sun protection.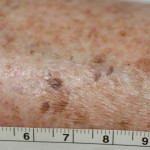 Solar lentigo – my mother-in-law calls these 'liver spots'.  They are flat, brown spots or patches which occur in sun-exposed areas and persist even when the sun goes away.  Most fair-skinned people will have the odd one in a chronically sun-exposed site, for example the back of the hand.  If you have had a lot of sun, ie in the form of sunbathing (such as the gentleman pictured above), using sun-beds in your youth, or simply being fair-skinned and outdoors with little in the way of sun protection, you may have lots of these.  They indicate, again, too much sun exposure and if the brown colour becomes uneven or lumpy, they warrant referral to a dermatologist.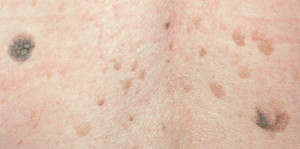 Seborrhoeic wart/keratosis – it is a misnomer to call these warts as they are not warts, they just look warty.  We see an awful lot of these and many get referred because they can look like a melanoma.  They are benign but can become unsightly with time.  They initially look like a solar lentigo, ie flat and brown but with time they can become darker, crustier and can catch on things and hence bleed.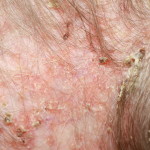 Actinic keratosis – these are sun-induced crusty spots and often look like pinky/red spots with a slight amount of flaky scale on the top.  Lesions that have been present for a bit longer may be more prominent with a hard, horny top to them.  These lesions should be treated as theoretically, if left untreated, they could progress onto a skin cancer such as a squamous cell carcinoma.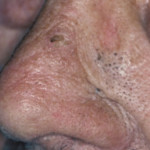 Actinic comedones – the sun can damage the architecture of the skin and result in enlarged pores.  With time, debris can accumulate in these enlarged pores and solitary or grouped large blackheads can develop.  These can be extracted (you can do this yourself, if you can stomach it or your dermatologist can do this) but the enlarged pore will remain which will inevitably develop into a blackhead again at some point in the future.
Solar elastosis – this is often seen on the back of the neck, but can be elsewhere on the body, in older individuals who have spent a lot of time outdoors, usually working outdoors.  The skin will look thickened and the skin creases become larger, deeper, more evident and look criss-crossed.  The above picture shows evidence of solar elastosis in the skin creases around the nose.  This pattern happens because the ultraviolet rays from the sun penetrate to the deeper layers of the skin and disrupt the elastic fibres.  These elastic fibres are important in maintaining the firm, elastic nature of skin and once gone, cannot be replaced and that is why chronically sun-exposed skin can look aged before its time.  I think this is what my patient referred to as looking like 'a leather bag.'
So, if you are a sun worshipper and you never hopefully develop a skin cancer in your life, you can see that even though a tan in your youth may make you look healthy at the time, too much sun in your youth will eventually make you look older before your time.
Regards,
Sandy
Dr Sandy Flann, Consultant Dermatologist