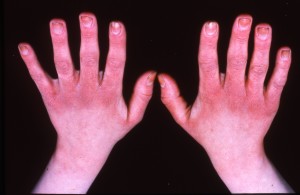 It's that time of year when my hand eczema always deteriorates; it's something to do with the harsh, cold weather, increased central heating and the increased washing up around Christmas time, what with all the increased amount of food preparation.  Nevertheless, it is extremely common for healthcare workers (doctors, nurses, midwives etc) to get hand eczema.  We often also see it in people who are exposed to a lot of wet work, ie hairdressers, cleaners, kitchen workers, mothers of young children for example.  It can be quite disabling, as anyone with hand eczema will tell you.  The skin becomes dry and sore and painful fissures can develop which can make handling or manipulating of objects difficult.
What can I do if I have hand eczema?
The traditional dermatological advice to those with hand eczema is to try and reduce wet work as much as possible, avoid using soaps, shower gels or bubble baths (in short, anything that bubbles up or has a fragrance), use soap substitutes instead (such as aqueous cream) and to use emollients (ie moisturisers) after every hand wash and at least 3 to 4 times a day.  We also frequently perform patch tests to see if there is a possible element of allergy to the eczema.
So what's new?
The British Medical Journal this week have included an editorial by Dr John English (Consultant Dermatologist at Nottingham University Hospital) on avoiding hand eczema in healthcare workers.
[English J, Thomas K.  Avoiding hand eczema in healthcare workers.  BMJ 2012; 345: e8370] 
In this article, a Cochrane review into primary prevention (reducing the disease from occurring) of occupational hand eczema (eczema of the hands due to someone's work) was discussed.  This Cochrane review found 4 such trials and it was interesting to find that these 4 trials found no benefit of using creams to try and prevent eczema in people who were in professions with a high incidence of hand eczema.  
The BMJ also includes a research trial comparing an individualized education programmes to prevent progression of eczema in those who already have a degree of eczema (secondary prevention) to the standard care described above. 
[Ibler KS, Jemec GBE, Diepgen TL et al.  Skin care education and individual counseling versus treatment as usual in healthecare workers with hand eczema: randomized clinical trial.  BMJ 2012; 345: e7822]
The trial showed that an individualized education programme (which took 20-30 minutes per participant) resulted in a statistically significant improvement in hand eczema severity and quality of life compared to those who just received the standard advice.
What does this programme involve?
This individualized programme included education on how to avoid relevant allergens (after patch testing to common allergens), how to wash and dry hands, the use of disinfectants instead of washing if the hands were not visibly dirty and the use of emollients three times a day.
Whether such an intervention is cost effective or will reduce cross infection or hospital acquired infections is however, yet to be seen.
And a bit of gross news…
Also interestingly, an October issue of The Week tells us that researchers from Queen Mary University, London and the London School of Hygiene and Tropical Medicine found faecal contamination on 26% of hands sampled.  One in ten were so "grossly contaminated" they were equivalent to the amount of bacteria to be found in a dirty toilet bowl!  In addition BBC News online tells us that one in ten bank cards aswell as one in seven bank notes are also contaminated with some kind of faecal matter.
It seems that despite quite crippling occupational hand eczema in some there are still some of us who are not washing our hands enough or well enough.
Regards,
Sandy
Dr Sandy Flann, Consultant Dermatologist