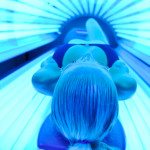 Last week's BMJ is all about dermatology, which is unusual because we don't normally score that high a profile.  The issue of concern is that more evidence has emerged confirming the harmful use of sunbeds, which is what we, as dermatologists, have been going on about for years, often at the risk of becoming socially unpopular and sounding rather mumsy.
What was already known about the risks of sunbeds?
 It has been proven without a doubt that the use of sunbeds is associated with a significantly increased risk of melanoma. 
 In 2007, the International Agency for Research on Cancer (IARC) working group on artificial ultraviolet light and skin cancer confirmed the increased risk of melanoma with sunbed use.  It also reported an increased risk of melanoma if exposure was before the age of 35 years and also reported a two-fold increased risk of developing another form of skin cancer, squamous cell carcinoma (SCC), in sunbed users.
So what new evidence is there?
The evidence from two groups, one in France & Italy and the second in California, were discussed in the BMJ.  The European group looked at sunbed use and melanoma.
What did they find?
Their analysis found that there was a 1.8% increase in risk of melanoma for each additional session of sunbed use per year.  They also estimated that 5.4% of melanoma cases (3438 cases per year) in western Europe could theoretically be prevented by avoiding exposure to sunbeds.
What did the American group find?
The American group looked at the risks of developing the more common forms of skin cancer, ie basal cell carcinoma (BCC) and squamous cell carcinoma (SCC).  They found a significant positive association between sunbed use and the development of basal cell carcinomas, ie the more sunbeds you use the higher the likelihood will be that you will develop a BCC.  They also confirmed the increased risk of SCC and the earlier the exposure to sunbeds (particularly before the age of 25 years), the higher the risk.
So, should sunbeds be banned?
Well, the IARC findings in 2007 resulted in the World Health Organisation classifying sunbeds as a group 1 carcinogen, along with tobacco smoke and asbestos.
Many countries have tightened regulations on the sunbed industry.  In Brazil, there is a total ban and in many countries (such as the UK, France and the US) those under the age of 18 years are prohibited from using sunbeds.
Dermatologists routinely ask anyone presenting with a skin cancer whether they have used a sunbed and we preach endlessly about the risks associated with their use.  A lot of the evidence just quoted simply confirms what we, as dermatologists have known for many years.  However, only the other week I had a 19-year old in clinic who had used a sunbed weekly for several years (the UK sunbed ban for under 18's only came into force mid-way through 2011).  She had a mole that had started to change and it was urgently removed that day.  Clearly, the message is not getting through to our young people…
Regards,
Sandy 
Dr Sandy Flann, Consultant Dermatologist